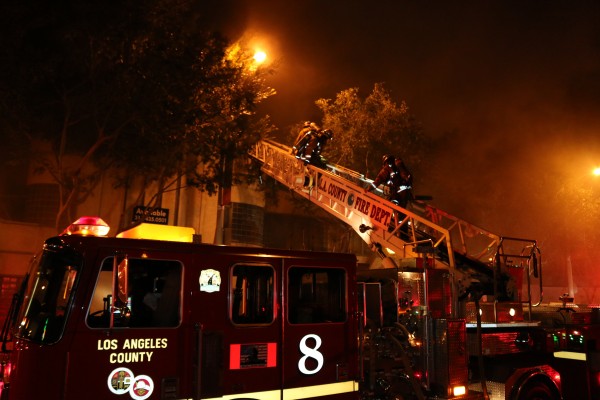 The Sheriff's Department has arrested a man on charges of murder and arson in the fire last week at 9080 Santa Monica Blvd. in West Hollywood.
Deputy Sara Rodriguez said Andrew Clark, 35, has been booked on those charges and is being held in jail in lieu of $1.25 million in bail.
Clark is being charged in the murder of Eric Von Young, 53, an apparently homeless man who was inside the 9080 Santa Monica building when the fire occurred. He was arrested last night at the West Hollywood Sheriff's Station.
Young was hospitalized at Cedars-Sinai Medical Center for smoke inhalation before his death, according to the Los Angeles County Fire Department.
The vacant building where the two-alarm fire occurred is known as the Jones Dog & Cat Hospital. The building, whose facade was redesigned in the 1930s in the Streamline Moderne style, is slated to be demolished for construction of the Melrose Triangle project. The L.A. Conservancy has filed a lawsuit to block the demolition.
The arrest will be presented to the L.A. County District Attorney on Monday at the Airport Court building at which time the D.A. will decide what charges to file.