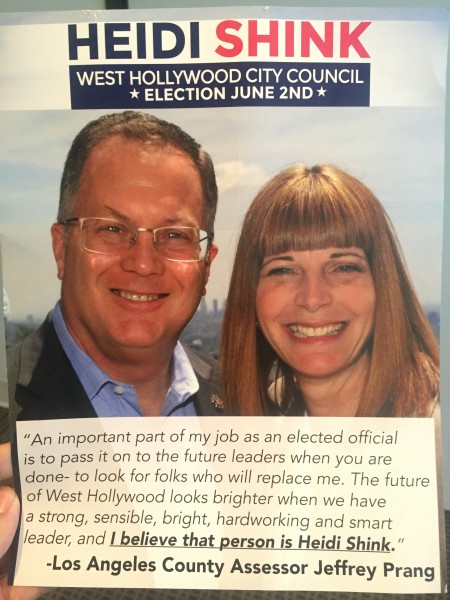 Jeffrey Prang is not endorsing Heidi Shink in Tuesday's West Hollywood City Council election. In fact, Prang said today, he isn't endorsing anyone.
Prang reiterated that after Shink's campaign mailed local voters a card that suggested Shink has the endorsement of Prang, a longtime City Council member who resigned in December after he was elected L.A. County Assessor. Shink is running against John Heilman, another long-time Council member, and Larry Block and Cole Ettman in a race to fill Prang's seat.
"Heidi Shink is a personal friend and somebody that I have supported and appointed to city boards and commissions," Prang said. "I served for 18 years with John Heilman and have the highest respect for his intellect and his creative approach to issues and the significant contributions he has made to West Hollywood, which has made it one of the most significant cities in the nation. I have decided to make no formal endorsements in this City Council race.
"I am extremely disappointed that Heidi used me in a mailer in a matter that implies my endorsement. I was neither consulted nor did I or would I have authorized the use of my name and likeness on this mailer, and I have conveyed that to both Heidi and her campaign."
The Shink campaign mailer features a photo of Prang and Shink. It quotes Prang as saying "The future of West Hollywood looks brighter when we have a strong, sensible, bright, hardworking and smart leader, and I believe that person is Heidi Shink." Marco Meneghin, who works for the Shink campaign, said the mailer was not intended to suggest that Prang was endorsing Shink.
""We have a video tape from March, that quote which we used was from March 15. we have the video tape and that's where the quote is from," he said, arguing that it indicated Prang's support of Shink but not his endorsement.