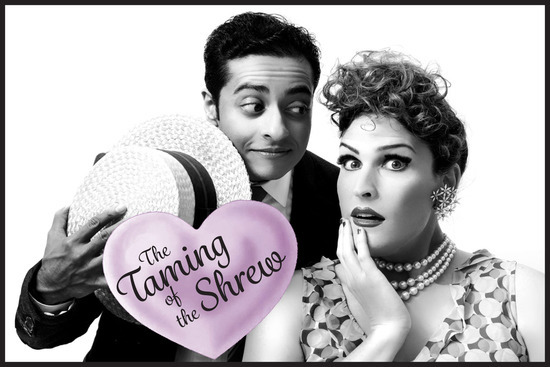 On Wednesday West Hollywood continues its 40-day series of One City One Pride arts and cultural events celebrating Gay Pride, which run through June 30. On the calendar over the next two weeks are the following:
June 10, 8 p.m. Pacific Serenades 2015: "Great Chamber Music—Here, Then & Now." Pacific Serenades, which has commissioned 111 works since its founding in 1982, presents a potpourri of chamber music—mostly by lesbian and gay composers—commissioned and premiered between 1987 and 2014. Admission $32; $5 for full-time students with ID. Online discount price $28 (plus handling fee) at www.pacser.org
June 11, 10:30 p.m. Queer Classics presents "Shakespeare's The Taming of the Shrew (An Exploration of Gender Expression)". Queer Classics re-imagines William Shakespeare's controversial and often polarizing commedia dell'arte "The Taming of the Shrew." Conceived and directed by Casey Kringlen, this exploration of gender expression in the comedic style of "I Love Lucy" comes to the 2015 Hollywood Fringe Festival as part of One City One Pride. Street parking is available as is paid parking at the West Hollywood Gateway. Admission is $10 for One City One Pride audience members (use code: WEHO). Tickets are available online. Other performances are 5 p.m., June 18 and June 19; 2 p.m. June 20 and 3:30 p.m. June 21 and 9:30 p.m. for an understudy performance on June 26.
June 12. 6 to 9 p.m. Opening reception for "Out There" art exhibition at Gallery 825, 825 N. La Cienega Blvd. This one-week juried art exhibition acknowledges the special opportunities that West Hollywood has provided for creative individuals over the past 30 years. The exhibition runs from June 13 through June 19, 10 a.m. to 5 p.m., with the exception of Mondays, when the gallery is closed. Admission is free. Valet parking is available at the opening reception; Lot parking is available during normal business hours. More information is available online.
June 16, 7:30 p.m. "Celebrating New Works," City Council Chambers, 625 N. San Vicente Blvd. south of Santa Monica. This monthly reading series by Celebration Theatre with the support of the City of West Hollywood features a new LGBTQ work each month. For June the play is "The Irreversible Decline of Eddie Socket," based on the novel by John Weir and adapted by Michael Sheppard, Celebration Theatre's co-artistic director. Admission is free. Donations are welcomed. Validated parking is available in the five-story parking structure on El Tovar Place.
June 18, 6 p.m. reception, 7:30 p.m. awards event, at Fiesta Hall in Plummer Park, 7377 Santa Monica Blvd. The annual Rainbow Key Awards ceremony honors individuals and groups who have made a significant contribution to the gay and lesbian community. The awards are given by the City Council based on recommendations from the Lesbian and Gay Advisory Board. This year's recipients are Jon W. Davidson, national legal director of Lambda Legal; Mikel Gerle and Brendan Rome, organizers of TRIBE, the gay men's discussion group; Our Lady J, author, performer and writer for the Amazon Studios TV show "Transparent"; Jimmy Palmieri, Human Services commissioner and founder of the Tweakers Project, and Elaine Suranie, women's rights advocate, actor and director. Admission is free. To RSVP or for more information, call Jeff Book at (323) 848-6471 or email jbook@weho.org
June 19, opening reception for TransPride and the TransPride exhibit at the L.A. LGBT Center, 1125 N. McCadden Place. This reception, in the Advocate & Gochis galleries at the Center's Village at Ed Gould Plaza, is in conjunction with and follows "Big Queer Convo," a conversation with Sandy Stone and Kate Bornstein, at the Renberg Theatre at 8 p.m. The exhibit, featuring work by Sandy Stone and others, will be on display through July 18. Hours are 6 to 10 p.m. Mondays through Fridays and 9 a.m. to 5 p.m. on Saturdays.
The annual TransPride festival will take place on June 20 with entertainment, food, drinks and workshops and resources. More Admission is free. More information is available online.
June 20, 10 a.m. to 6 p.m., "APLA Pow Wow, Celebrating All Life and Creation." The fifth Pow Wow promotes HIV awareness and prevention among the Native American communities and features Native American traditional drum groups, dancing and food along with STI testing and resources. Admission is free. More information is available online.