That weekend line down the sidewalk on Santa Monica Boulevard near the corner of North Vista Street soon may disappear according to LA Weekly.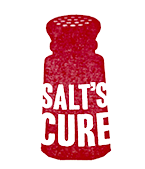 That newspaper reports that Salt's Cure, one of West Hollywood's most popular weekend brunch spots, is moving. The reason, according to the Weekly's food critic, Besha Rodell, is the restaurant's popularity. It needs more room.
Salt's Cure will move into the space currently occupied by Ammo on Highland Avenue, which will move to Melrose Avenue just east of La Brea. That location is twice the size of the current Salt's Cure space.
The present Salt's Cure location provides room for only 34 diners. That, and its menu of homemade breads and charcuterie are part of the reason for the lines outside. The restaurant opened in 2010 and plans to make the move to Highland this fall. No word as yet about what, if anything, will replace it in the Santa Monica Boulevard space.