This Sunday a few thousand LGBT people will march down Santa Monica Boulevard in West Hollywood to show their pride in who they are and what the LGBT community has accomplished. One of the two grand marshals will be the Rev. Troy Perry, who was instrumental in launching the nation's first Gay Pride march in 1970.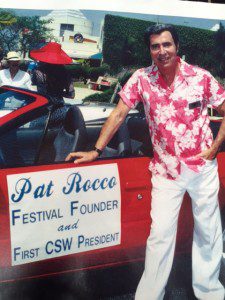 The parade will march west toward West Hollywood Park, the site of a weekend festival originated by another gay pioneer, who is 2,500 miles away in the tiny town of Pahoa in Hawaii. Pat Rocco won't be present for the parade and festival, but he wants to make sure those who participate don't forget those who made it all possible.
Rocco, 81, moved to California at 11, and "came out" as gay at the age of 13. He had his own radio show and recorded an album when he was 19. He got some work as an actor in TV shows in the late '40s and early '50s, and performed as Mack the Knife in the West Coast premiere of "The Threepenny Opera." But Rocco's real legacy is as the first president of Christopher Street West, the non-profit organization that puts on L.A. Pride, a position in which he created L.A.'s first Pride festival.
Rocco recalls that the festival was a hard sell to his fellow board members in 1974, who were worried that a three-day public display by LGBT people might not be safe. But he convinced them and secured an empty lot at Sunset and Cherokee in Hollywood for the event. He also put his film production skills to work. Rocco filmed scenes from the early Pride festivals and parades and has put them together in a touching video that illustrates both how the LGBT community has changed and how it has remained the same.
Perhaps what is most striking are the scenes Rocco filmed at places like the Sunset festival lot and Griffith Park, where long-haired and slender young gay men (slender was the style then) unabashedly kiss while laying on the lawn together and lesbian couples hold hands in public without looking nervous. Then there are the marchers, who parade down Hollywood Boulevard while stern and obviously unapproving police officers watch them. The Los Angeles Police Commission originally had insisted on an exorbitant bond of $1.5 million to compensate for any damage caused by the parade. It took a decision by a Superior Court judge to remove that obstacle and let the parade proceed.
The next parade didn't occur until 1973, and it was Rocco and others, including Rob Cole, then an editor at the Advocate, who pushed for that. Once again the police chief objected, by the Police Commission granted a permit.
Rocco has compiled it all on a DVD which he is offering for sale for $25 by check or money order. The video, nearly three hours long, shows parades and festivals from 1970 to 1978. Orders can be placed by mail to P. R. Productions,  P.O. Box 1973,  Pahoa, Hawaii 96778. Rocco also can be reached at patrocco808@aol.com.