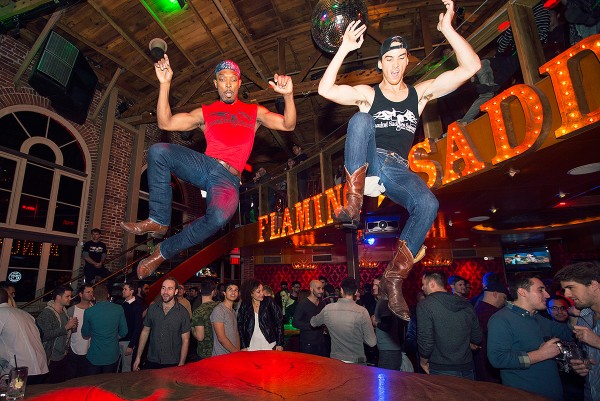 A gay Country/Western bar? In West Hollywood? Owned by straight people? (Eyes roll)
That was reaction in much of the gay community when news broke last fall that Chris Barnes and Jacqui Squatriglia were going to take a concept that was a hit in New York City and recreate it in West Hollywood, where go go boys in jock straps are what pass for much of the entertainment in the city's Boystown nightlife area. The doubters said it wouldn't work. And lately there even has been a rumor posted on Facebook that Flaming Saddles has been a failure and Barnes and Squatrigilia are going to close it after the upcoming Gay Pride weekend.
But the couple, partners in business and life, deny that. They've dug in the heels of their cowboy boots and insist that people are coming to understand that Flaming Saddles is what West Hollywood's gay community needs. No, they don't mean the Country/Western music, but the neighborhood ambiance. "We want it to be the neighborhood bar," Squatriglia said. "Our struggle was taking Eleven, which was turning into a nightclub, and turning it into a neighborhood bar."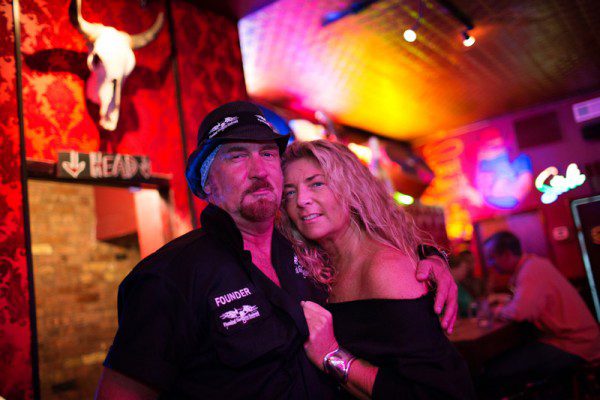 Eleven is the name of the two-story nightclub cum restaurant at the corner of Santa Monica Boulevard and Larrabee into whose space Flaming Saddles moved. Like many of West Hollywood's gay bars, Eleven's entertainment was built around DJs and go go boys, with outside promoters putting on special nights to attract their own followers. Rent increases and a decline in customers forced owner Richard Grossi to sell. Similar issues have continued to plague Rage down the street. Here Lounge's owner Pat Rogers, who pretty much follows the same model, has told WEHOville he has considered "straight" nights to get business into his location on Robertson Boulevard.
The go go boy/DJ/ promoter concept is a difficult one. Rogers, whose experience also includes ownership of the very popular "G" gay lounge in New York City and a partnership in gay Chelsea's former FoodBar restaurant, has complained about having to rely on promoters in West Hollywood, who can take a significant amount of a bar owner's profits. Then there's the difficulty a nightspot has in distinguishing itself from competitors if everyone is relying on go go dancers and a handful of popular DJs. And there's the fact that The Abbey and Micky's, which seem to be always packed, already dominate the go go boy/DJ scene (with The Abbey getting an edge for also serving food).
Flaming Saddles, which opened in November, is the latest in a series of experiments to see if a more targeted approach will help Boystown thrive. Other thematic spots are P.U.M.P., a lavishly decorated restaurant and lounge on the corner of Santa Monica and Robertson boulevards opened in 2013 by Lisa Vanderpump, known for her appearances on "The Real Housewives of Beverly Hills." While you might encounter an adult film star such as Michael Brandon at Mickey's, you're more likely to run into the aptly named Bobby Trendy and a gaggle of young girls in very short skirts and strappy heels at P.U.M.P. While some question whether P.U.M.P. has any appeal for the gay crowd that Vanderpump claims to cater to, the fact is that it remains open at a location where other businesses have come and gone quickly. There are older Boystown venues that also appear to offer proof that themes work. For example, there's Gym Bar, a gay sports bar that is the place to go after a WeHo Dodgeball game. Hamburger Mary's, a restaurant where drinking is a big part of the dining experience, thrives outside Boystown because of its drag queen theme.
Barnes and Squatriglia had no illusions that opening a bar in West Hollywood would be easy. But they took comfort from knowing that they know the business. "We are old-school bartenders," Barnes said. Barnes got into the bar business after working as an actor and then opening the Mount Airy Casino in New York's Poconos. Squatriglia is a classically trained dancer who choreographed the performances on the bar for the Coyote Ugly chain, for which she opened 22 bars, and came to admire the dancing skills of gay men. They met six years ago at the Mount Airy Casino. "We started dating, and I said: 'Do you want to get married, have kids? Or do you want to have fun?' " Barnes recalled. "She said: 'Have fun.' I said: 'What is fun?' She said: 'I want to open a gay Country /Western bar'."
Barnes said he and Squatriglia got pushback from gay nightlife promoters in West Hollywood when they opened and said that they didn't need them. "We still get backlash and punished for that," Barnes said, noting that it was a promoter who posted on his Facebook page recently that Flaming Saddles was going to close. They also were approached by a promoter who wanted to do a lesbian night, but insisted that Flaming Saddles not play the Country/Western (and occasional rock) music that it's known for. Squatriglia said no.
While the Country/Western music and the professionally choreographed dancers (with boots and shirts on) are a big part of the Flaming Saddles brand, Barnes and Squatriglia say what matters most is its concept as a neighborhood saloon — a place where you can hang out with old friends and meet new ones, and where the staff gets to know you and remembers what you like to drink (and eat). "Open up the base brand and then be aware of what the community wants to let it grow," Squatriglia said.
They have let local groups stage events at Flaming Saddles — for example a recent event for City Council candidate John Heilman — so that people who might not otherwise know their saloon can experience it, and they are open to collaborating with other non-profit groups and associations. The hope is that getting those locals to see Flaming Saddles as the neighborhood gathering place will boost business on weekdays in a venue that attracts, as does the rest of Boystown, its biggest crowd of out-of-towners on weekends.
Another challenge for them has been acceptance by the gay community. "One of the hardest parts has been the inner WeHo community accepting us, wondering what are our motives," Barnes said, alluding to the suspicions of some that they were a straight couple who just wanted to make money from gay men. There also are those who have criticized P.U.M.P. because Lisa Vanderpump isn't gay. And Thomas Michel, who briefly took over the troubled Rage, marketed it as gay-owned and -operated in a subtle slam at competitors who weren't.
Barnes and Squatriglia say they were lucky to grow up in families that were completely accepting of LGBT people. And over the years, as they have worked with gay people, they have developed a depth of understanding of the issues gay people face when they heard the personal stories of their employees. That understanding is evident in an amusing video that Barnes created lampooning Westboro Baptist Church, a Christian religious cult known for its homophobia.
"As a straight couple, we know it's gay rights," Barnes said. "But for us it's also civil rights." As the owners of Flaming Saddles in New York and West Hollywood, two of the nation's gay capitals, Barnes said he and Squatriglia have come to see themselves as more than bartenders. "We have found ourselves in something much larger than a gay Country / Western bar," he said. Flaming Saddles, Squatriglia added, has brought new meaning to their lives.