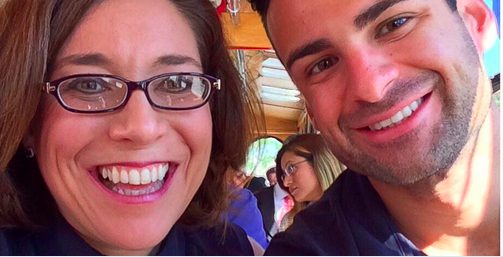 The two remaining members of the West Hollywood City Council deputies union are attempting to block a reform of the controversial deputy system proposed by Mayor Lindsey Horvath that likely would cost them their jobs.
A letter to Mayor Horvath and Councilmembers John D'Amico and Lauren Meister from Aanand Ghods-Mehtani asks that any reform that would have a negative impact on Ian Owens and Michelle Rex be postponed until the resolution of a lawsuit against the city filed by Owens. Ghods-Mehtani is a lawyer representing Owens. The letter was not sent to Councilmember John Duran, to whom Owens reports. Rex, who managed D'Amico's 2011 election campaign, is now his Council deputy.
In his lawsuit, Owens claims he was retaliated against for disclosing that Fran Solomon, the now-retired deputy to Councilmember John Heilman, solicited campaign support from Heilman from her City Hall office. Owens also claims that Councilmember John Duran solicited sex from him. Duran has denied that allegation.
The city hired Steve Rodig, a private investigator, after Solomon claimed that Owens had improperly monitored her telephone conservations to obtain quotes of her allegedly calling people from her city office to ask them to participate in a photo shoot to promote Heilman's re-election campaign. Owens sent a mass email under a fake name alleging that behavior by Solomon.
"… Both Mr. Owens and Ms. Rex have recently made serious allegations against the City," the letter says, referring also to statements Rex has made to Rodig. "In light of those allegations and the fact that strong evidence supporting them has already been brought to your attention, any restructuring of the Deputy Program at this juncture that would lead to any adverse employment action for either Mr. Owens or Ms. Rex would be unlawful retaliation…"
The letter said that Rex has told Rodig that Solomon refused to speak to her for two years after D'Amico's 2011 campaign, in which he targeted John Heilman and in which he and other candidates accused Solomon of misusing a city credit card. Rex told Rodig that, in conversations with others, Solomon has referred to her as "that f-ing bitch" and that Solomon spit at Rex.
Ghods-Mehtani also asked that Duran and Heilman, who will be installed as a Council member on Monday after winning the June 2 special election, recuse themselves from voting on Horvath's proposal. And if the city moves forward with changes to the deputy system, the letter asks that Rex and Owens be rehired in positions with similar responsibilies and pay. Rex's 2014 compensation, including various benefits, was $190,000 and Owens' was $150,000. It also asks the city to hire a mediator to negotiate a confidential solution to the issue.
Horvath is proposing to replace the deputy system with a team of employees, each with special skills, that would report to the city manager and handle tasks for all five Council members. That approach is unlikely to get the support of newly elected Councilmember Lauren Meister, who has named Scott Schmidt, her campaign manager, as her interim deputy, or D'Amico, who has acknowledged problems with the deputy system but publicly supports Rex. That means Horvath's proposal will be stalled if Heilman and Duran are not allowed to vote on it.
The deputy system is unparalleled among cities in Los Angeles County organized like and of the same size as West Hollywood. For example, neighboring Beverly Hills, which has roughly the same population and also has a part-time City Council, has a single employee serving all Council members.
Stories about Owens email allegations about Fran Solomon have sparked extensive coverage of what has come to be called "Deputygate," with local residents expressing outrage about the salaries of the deputies and complaining about their unresponsiveness to local residents. An examination of the system by WEHOville also has revealed issues that include personal conflicts among the deputies, their interference in the work of other city employees and the failure of some of them to work full days.
The attempt by Owens and Rex is not the first effort by deputies to involve themselves in policy making, which is the purview of the City Council.  The five-member deputies union, with a majority vote by Rex, Owens and then-deputy Michael Haibach, successfully lobbied against a proposal by Heilman that would barred retiring deputies from returning to full time jobs at City Hall.