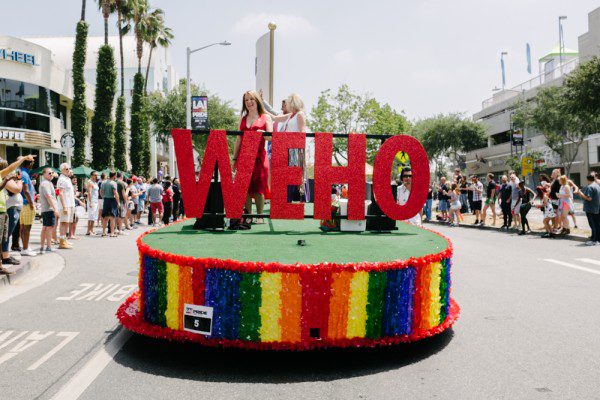 Thousands of people lined Santa Monica Boulevard in West Hollywood today for the LA Pride Parade, celebrating the transgender, lesbian, gay and bisexual communities.
Los Angeles Mayor Eric Garcetti, Los Angeles Police Department Chief Charlie Beck, Los Angeles County Sheriff Jim McDonnell, Rep. Ted Lieu, D-Torrance and "Magic Mike XXL" stars Channing Tatum, Matt Bomer and Adam Rodriguez were
among the participants in the parade along with members of the West Hollywood City Council. It began at Crescent Heights Boulevard and continued west along Santa Monica Boulevard to Robertson Boulevard.
The Rev. Troy Perry and 13-year-old transgender activist Zoey were the grand marshals while the cast and crew of the Amazon comedy "Transparent" were the community grand marshals.
Perry is the lone survivor of the three organizers of the world's first permitted Pride Parade in 1970, held in Hollywood to mark the first anniversary of the rebellion at the Stonewall Inn in New York City that launched the modern gay, lesbian, bisexual and transgender liberation movement. Perry founded the predominantly gay Metropolitan Community Church and was the first openly gay member of the Los Angeles County Commission on Human Rights.
Zoey faced bullying at her school when she was 11 after disclosing her gender identity. With the help of her mother and American Civil Liberties Union she fought school officials for her right to self-identify in school.
"Rev. Troy Perry and Zoey, along with the cast and crew of "Transparent," represent the heroic legacy of activism and a continued commitment to advancing the rights of all people," West Hollywood Mayor Lindsey Horvath said.
The parade has been held every year since 1970, except for 1973 when infighting over crude displays the previous two years left the organizers in disarray. The parade was held in Hollywood until 1979, when it moved to West Hollywood.
Photographer David Vaughn offers a look at more of the parade on the pages that follow: