The West Hollywood City Council, in a four to one vote, tonight adopted a proposal by Mayor Lindsey Horvath to reform a system of full time Council deputies that has been plagued by dysfunction, sexual scandal and political infighting.
Horvath and Councilmembers John D'Amico, John Duran and John Heilman voted to replace the system. Councilmember Lauren Meister voted against the reform.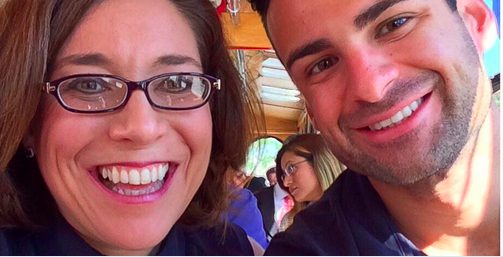 The Council's decision eliminates the deputy system as of tomorrow. With shifts in City Council membership because of elections, there currently are only two full-time deputies in permanent positions — Ian Owens, deputy to John Duran, and Michelle Rex, deputy to John D'Amico. Kirin Hashmi, deputy to former Councilmember Abbe Land, currently is assisting Horvath as a "limited assignment." Councilmember Meister has named her campaign manager, Scott Schmidt, as her interim deputy.
The deputy system will be replaced by a team of five employees reporting to a supervisor who will report to the city manager. The new staff will provide specific services for all of the Council members. Those services include booking appointments and arranging events, researching and drafting legislation and meeting with local residents on the Council members' behalf. In proposing the change Horvath said it wasn't realistic to expect any one Council deputy to be skilled in all such areas. The change, she said, would result in better service to Council members and the community with each deputy having specific responsibilities. City Manager Paul Arevalo said tonight that until the new system is set up an interim Council support staff will report to Christof Schroeder, the assistant city manager of legal services and legislative affairs.
The change will eliminate a system that has been seen as dysfunctional by many City Hall insiders since it was established 30 years ago when the city was first incorporated. Paul Brotzman, WeHo's first full time city manager, said the system was established then because the new city had no infrastructure. Also, because its Council was the first in the world to have a predominately gay and lesbian membership, the Council members were overwhelmed by requests from media outlets both locally and around the world. Then, as now, the Council members had other full-time jobs. Brotzman said there were issues with the system from the beginning, not least that it was difficult for the city manager, who is charged with overall supervision of city employees, to manage people who are selected by and loyal to the Council members who hire and fire the city manager.
Councilmember John Duran said he understood the need for deputies in the Council's early years and has depended on his deputy to "keep a check on the city manager" because Duran was only at his City Council office once or twice a month. However Duran said that the city now has the staff and infrastructure to allow Council members to focus on setting broad policy, leaving to the city manager the job of executing that policy.
Councilmember Meister acknowledged recent problems among the Council deputy staff. "I agree there needs to be changes in the system," she said. "I agree… it's not pretty. But I also think… that you don't throw away the baby with the bathwater." Meister asked that reforms be postponed until more study could be done and feedback obtained from local residents about the system.
Councilmember D'Amico surprised observers by voting for Horvath's proposal. After praising his deputy ("I want to thank Michelle Rex for being an exemplary public servant, the kind that the city is lucky to have"), D'Amico said "I support this change because it would be inconsistent to not invite change…" Turning to Meister, he said: "Lauren, this is a moment in the future history of West Hollywood that we can join even though we don't want to."
While the deputy system has long been seen as flawed by City Hall insiders, news of its dysfunction went viral outside City Hall earlier this year when Ian Owens, Duran's deputy, sent out an email message under a fake name to various people and media outlets alleging that Fran Solomon, then deputy to Councilmember Heilman, was using her office phone to promote Heilman's re-election campaign. When WEHOville identified Owens as the source of the email, Solomon complained that her conversations were being improperly monitored. The city responded by hiring a private investigator to look into the matter. In response, Owens filed a lawsuit against the city alleging that it was retaliating for his efforts to expose allegedly improper behavior by Solomon and alleging that Duran had solicited sex from him. Duran, who has admitted meeting Owens on Grindr, the gay hookup app, and having sex with him, has denied soliciting sex from him after he was hired as his deputy. City Attorney Mike Jenkins said tonight that the city's insurance company will pay the cost of defending the city and defending Duran in the lawsuit.
The revelations about Owens and Solomon brought forth other accusations of bad blood between D'Amico's deputy Michelle Rex, who was his former campaign manager, and Solomon. D'Amico and Heilman have had a contentious relationship that was reflected in the relationship between their deputies. Also revealed was the fact that some deputies arrived at work late and left early, interfered in the work of other city employees and weren't responsive to the needs of local residents, a key part of the job.
West Hollywood residents became particularly upset about the compensation of the deputies. The 2014 salary and benefits of Owens totaled about $150,000 while that of Rex totaled about $190,000.
A number of residents spoke in favor of the reform tonight. Among those was Duke Mason, an unsuccessful candidate in the March City Council election. Mason criticized D'Amico for initially supporting the deputy system, saying he was putting his political interests ahead of the interests of residents. Mason also said the Council shouldn't be intimated by the lawsuit by Owens. "I say let them sue," he said. "This city cannot afford to be held hostage by these bullies any more….."
Those opposed to Horvath's reform proposal included neighborhood activists, several of whom submitted letters to the Council outlining their opposition. Among them was Sheila Lightfoot, Meister's appointee to the Planning Commission; Allegra Allison, D'Amico's appointee to the Historic Preservation Commission, and Cathy Blavis, Meister's appointee to Historic Preservation. Cynthia Blatt, who has led the opposition to a proposed new development on Kings Road, also objected to the reform. All of them urged the Council to solicit public input before making changes.
Horvath said it is anticipated that those holding jobs in the new support system would be members of Local 3339, the union for city employees. The Council deputies currently have their own five-member union.
The reforms approved by the Council tonight put West Hollywood in line with other general law cities of its size in Southern California, none of whom have full time Council deputies.
The City Council first considered making changes to the deputy system on March 2 but decided to postpone any action until after the March 3 election. At its April 6 meeting, the Council approved modest adjustments to the system and agreed to reconsider it after the June 2 special election, when a full five-member Council would be in place.