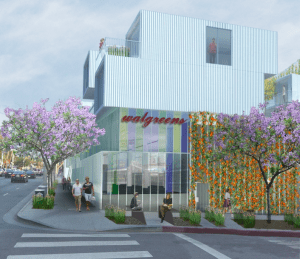 The City of West Hollywood is in negotiations to purchase the one-acre site at 8120 Santa Monica Blvd. at Crescent Heights owned by Walgreens.
The negotiations, if successful, will bring to an end a 10-year effort by the drugstore chain to develop the property, where Walgreens had planned to build a shopping plaza with a drug store and other shops and 20 apartments.
Acquisition of the site gives the City of West Hollywood a number of previously unavailable options in this densely populated city with little room for new civic projects. The city has confirmed that negotiations are underway, but Public Information Manager Lisa Belsanti said there has been no determination as to how the city might use the property if it acquires it.
After Walgreens acquired the property it upset neighbors by forcing out a number of local shops and restaurants and a church. Among the more popular, which moved to new locations nearby, were Marco's and Tasty Donuts. Neighbors also pressed the city to demand that Walgreens and its developer, Pacific Development Partners, conduct an expensive and lengthy review of the potential environmental impact of the project. Some City Council members also expressed concern about the impact of the project and its design, given that it occupies a prominent place on Santa Monica Boulevard, which is West Hollywood's "Main Street."
The decision by Walgreen's to try to negotiate a sale follows an announcement by the drugstore chain this spring that it was closing 200 of its 8,232 drugstores in the United States and the U.S. Virgin Islands and Puerto Rico.
While there is no indication of how the city might use the property if it is able to acquire it, residents have long demanded construction of more parking structures and more park space. There also is a need for more low- and moderate-income housing in the city.