The West Hollywood Planning Commission last night approved a request to allow a restaurant planned for the roof of a building at 8715 Melrose Avenue at San Vicente to serve alcoholic beverages.
The approval came in a four-to-one vote, with Commissioner Sheila Lightfoot opposing it.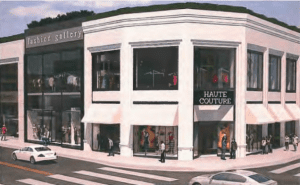 The restaurant, Catch Melrose, will have a menu focused on seafood and be located on the roof terrace, or third floor, of the building. Its request for a permit to serve alcohol was opposed by several area residents who say they had been promised by Jason Illoulian of Faring Capital, the building's developer, that there would be no rooftop restaurant.
Construction of the three-story building was approved by the City Council in 2012 with the understanding that it would be used for retail and wholesale purposes. The 9,677-square-foot rooftop terrace was to be used as a showroom for outdoor furniture. Illoulian told the Planning Commission last night that his family's carpet business had originally intended to open a showroom there. For business reasons they changed their minds and Faring rented the top floor and terrace to Catch, a restaurant that also has locations in Dubai, Mexico City and New York City.
Residents opposed to the alcoholic beverage permit said they were concerned that patrons drinking until the restaurant closed at 2 a.m. would generate loud noise that would waken neighbors on Rangely Avenue, which is a residential street a block south. Catch conducted a study of the possible impact of noise and light from the restaurant and agreed to construct a thick glass wall around it to blunt the sound from the restaurant. At last night's meeting, Mark Birnbaum, whose EMM Group owns Catch, assured the commissioners and residents that there would be no live music at the restaurant.
Another concern raised by residents and echoed by some Planning Commissioners was that the city's planning staff in March 2014 granted a permit to convert the wholesale space for use as a restaurant without taking the matter before the Planning Commission. Lightfoot, and Commissioners Donald DeLuccio and John Altschul said that request should have been reviewed by the Commission before the request for a liquor permit emerged. However city staff members noted that under the zoning ordinance planning staffers can issue such permits for businesses of less than 10,000 square feet without seeking Planning Commission approval.
Those speaking in favor of the project included Marlon Wayans, the actor and comedian. Wayans, a resident of West Hollywod, said he had often dined at Catch New York and noted that its clientele ranged from celebrities such as LeBron James to Bill Clinton. Other supporters included members of the city's business community such as Chamber of Commerce President Genevieve Morrill and Darren Gold, chair of the West Hollywood Design District, who noted that the sale of alcohol is essential to profitability in the restaurant business.
Marcel and Mariah Fontijn, who live nearby on Rangely, said they have been bothered by noise from construction of the building and asked that the restaurant be closed earlier than the 2 a.m.
In its approval, the Planning Commission stipulated that city staffers review the situation three months, six months and 12 months after Catch opens to ascertain that its noise abatement efforts are successful.