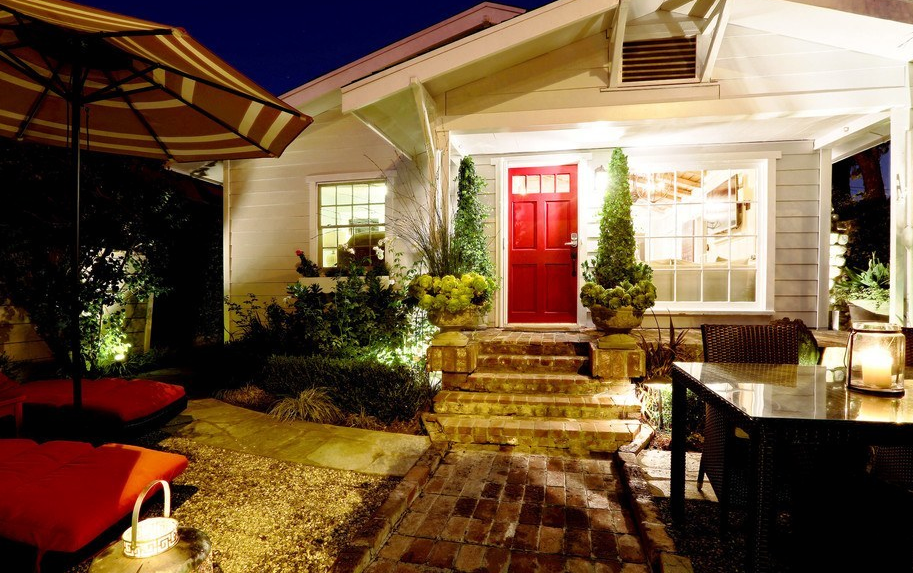 West Hollywood's ban on short-term rentals apparently is not doing much to stop them and is getting push back from local residents and the city's Planning Commission.
The Planning Commission on Thursday was asked by the city's economic development staff to adopt a resolution clarifying that the current zoning ordinance makes illegal the rental of residentialproperty for 30 days or less in an area zoned for residential use. The Commission, in a two-to-four vote, passed that resolution, which now goes before the City Council. But the Commission also voted unanimously in favor of a resolution by Commissioner Heidi Shink that asks the Council to take a look at other models for regulating such rentals like that in force in Santa Monica. Shink and Commissioner John Altschul voted against the zoning law clarification proposal.
In May the Santa Monica City Council adopted a ban on full-time vacation rentals, which occur when owners of apartment buildings or houses rent them only to short-term visitors rather than lease them to local residents. Some landlords have been accused of effectively taking apartments, which are governed by rental control, off the market in order to make more money by renting them out to visitors.
The Santa Monica Council did, however, make it legal for home or condo owners to rent out spare bedrooms or cottages on their property so long as the home owners was present on the property during the rental. The Santa Monica regulation took effect on Monday. Those who want to participate in the home-sharing program are required to obtain a business license from Santa Monica and pay a 14 percent hotel tax, revenue from which will be used to enforce the law and monitor online sites such as AirBNB for violators.
The proposal before the Planning Commission Thursday night is the result of deliberations by a task force created by the West Hollywood City Council last year to look at shared-economy business models such as AirBNB and Uber and Lyft, the taxi-service providers, and their impact on public safety and the local economy. In February the Council endorsed the task force's recommendation that the city rewrite its zoning ordinance to make clear that short-term rentals were illegal. At its February meeting several residents asked the city to make an exception for short-term rentals in houses or condos occupied by their owners. Councilmember John Duran said he supported making that distinction.
At Thursday's Planning Commission meeting a number of local residents asked the Commission to press the Council to rethink the ban on short-term rentals, with several saying they wouldn't be able to afford their homes unless they could rent out extra bedrooms. "AirBNB has saved my home," said Chris Zee. "If it were not for AirBNB I would not be able to afford my mortgage." Kevin Stalter, owner of a condo on Kings Road, said the city is "looking to ban something that for me… will probably make me lose my home."
That the law banning short-terms rentals is not stopping them was evident in comments before the Planning Commission by several owners of real estate who admitted that they rent it exclusively to visitors. David Cooley, who lives in Los Angeles and is a partner in SBE Entertainment and the founder of The Abbey, WeHo's popular gay bar and restaurant, told the Commission that he owns 14 residential properties that he rents to short-term visitors. "I have a property on Ashcroft, and you don't now how many people i get referred to by Cedars (Cedars-Sinai Medical Center) because they have someone who has someone in the hospital," he said. Cooley said the city should require those who rent houses or condos they own to visitors to register with the city and pay an occupancy tax.
Another speaker, Martin Beaurivage, a West Hollywood resident, is the CEO of Elite Luxury Homes, a company whose business is the short-term rental of houses. Its website lists several properties in West Hollywood along with others in Los Angeles County and as far away as Miami, New York City and Mexico. Beaurivage said that the guests who rent his houses and condos "go through a meticulous screening …"
Laura Minnich, economic development analyst for West Hollywood, said a major issue that cities face is enforcing laws that require landlords to be on site while they host short-term visitors. "Enforcement is the real issue," said Planning Commissioner Sue Buckner, who asked that the Commission's resolution include a request that the city examine ways to do that if it adopts the dual model in place in Santa Monica.