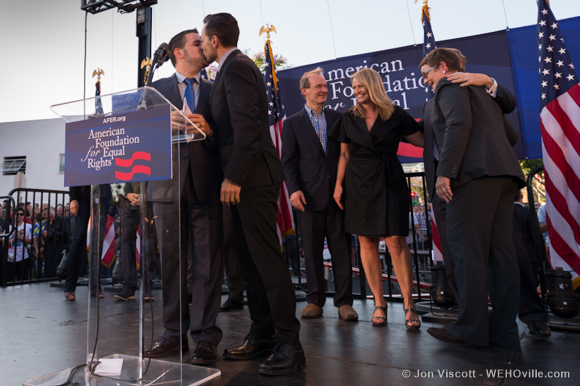 LGBT people and dozens of LGBT and other human rights organizations will rally at West Hollywood Park at 6 p.m. today to celebrate the U.S. Supreme Court's decision that same-sex marriage is a constitutional right.
The decision, announced this morning, will require the 13 states that do not permit same-sex marriage to do so. It brings to an end a decade-long campaign by LGBT activists that grew steam in recent years, partly because of a shift in public opinion on the issue. A Gallup poll in 1996 showed 68 percent of Americans were opposed to legalizing same-sex marriage while 27 percent supported it and five percent were undecided. A CNN poll in 2010 showed a slight majority in support of same-sex marriage. And various polls this year showed that as many as 63 percent of Americans support same-sex marriage. With the Supreme Court's decision, the United States joins 19 countries around the world ranging from France to South Africa that have legalized marriage between people of the same sex.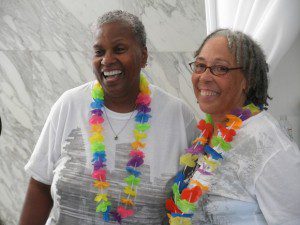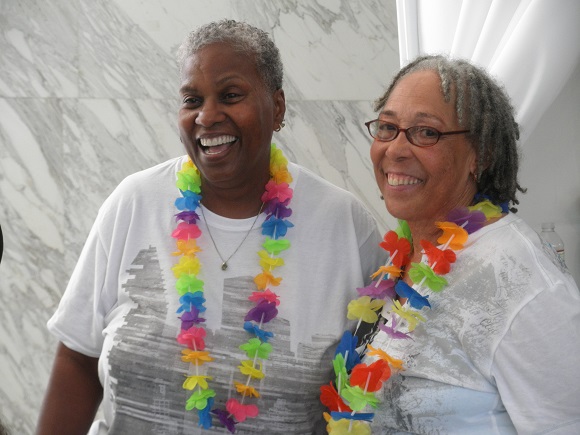 The decision is of particular significance in West Hollywood, where an estimated 42-45 percent of the population is composed of LGBT people. West Hollywood was one of the first cities in the country to pass a resolution in support of marriage equality. In June 2008, the city, in conjunction with the Los Angeles County Register-Recorder Clerk, began to issue marriage licenses and perform civil ceremonies for same-sex couples after the California Supreme Court ruled that a ban on same-sex marriage was unconstitutional.
The city was forced to halt those marriages in November 2008 with the passage of Proposition 8, a constitutional amendment prohibiting same-sex marriage. A long legal battle ensued in federal court, which finally resulted in the U.S. Supreme Court dismissing an appeal in Hollingsworth v. Perry in June 2013 allowing same-sex marriages to resume. The City of West Hollywood launched a marriage celebration, and to date, West Hollywood Council members and city officials have performed hundreds of civil ceremonies.
"Today is a proud moment in our nation's history," said West Hollywood Mayor Lindsey Horvath. "Marriage equality is now the law of the land, bestowing upon all couples the legal benefits and protections afforded by our government. We celebrate this important victory for LGBT rights as we continue the struggle for full equality among all people."
The decision announced today came in a five-four vote, with Justice Anthony Kennedy joining the more liberal justices Sonia Sotomayor, Ruth Bader Ginsburg, Elena Kagan and Stephen Breyer. " No union is more profound than marriage, for it embod ies the highest ideals of love, fidelity, devotion, sacrifice, and family," said Kennedy in the decision, which was written by him. "In forming a marital union, two people become something greater than once they were. As some of the petitioners in these cases demonstrate, marriage embodies a love that may endure even past death.
"It would misunderstand these men and women to say they disrespect the idea of marriage. Their plea is that they do respect it, respect it so deeply that they seek to find its fulfillment for themselves. Their hope is not to be condemned to live in loneliness, excluded from one of civilization's oldest institutions. They ask for equal dignity in the eyes of the law. The Constitution grants them that right."
Co-sponsors of this evening's rally include AIDS Project Los Angeles, All Saints Church, American Veterans for Equal Rights, Anti-Defamation League, API Equality – Los Angeles, Bayard Rustin Coalition, Beth Chayim Chadashim, Bienestar, Congregation Kol Ami, Equality California, Equality Campaign, Founders Metropolitan Church, GLAAD, Human Rights Campaign, Lambda Legal, Latino Equality Alliance, Lesbian and Gay Lawyers Association of Los Angeles, the City of Los Angeles, Marriage Equality USA, Muslims for Progressive Values, National Center for Lesbian Rights, National LGBT Task Force, Stonewall Democratic Club, The Wall Las Memorias Project, and the City of West Hollywood.
Parking is available for those attending the rally at the five-story parking structure off El Tovar place. But rally participants are encouraged to carpool or use public transportation (Metro bus lines 105, 705, 4, 704, 217 and 218).