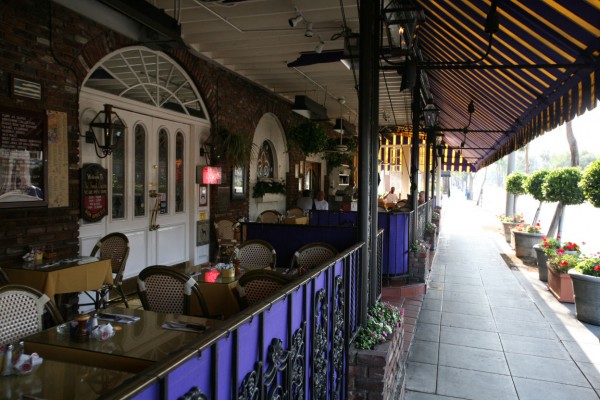 In a move lamented by older members of the local LGBT community, the French Quarter restaurant is finally closing.
The closing, originally scheduled for March to prepare for a renovation of the restaurant, now will occur on Sunday afternoon.
Located at 7985 Santa Monica Blvd. at North Laurel, the restaurant has long been a popular weekend brunch place and offers relatively inexpensive breakfast, lunch and dinner menus. It also has an outdoor dining area facing Santa Monica. And, rare for West Hollywood, it offers free parking in a lot next door.
The French Quarter dominates the French Market, a complex of shops whose inhabitants moved out this Spring as the place was being renovated. It is famed in LGBT circles as a gathering place for members of the Municipal Elections Committee of Los Angeles (MECLA), a political action committee in the 1970s that raised money to support gay-friendly candidates. It also is where Jerry Brown in 1991 met with gay activists to solicit their support for his candidacy for president. When news of the renovation became known in March, Rick Castro, in a posting on his blog, announced "FRENCH MARKET PLACE- THE END OF GAY." Castro is owner of Antebellum Gallery in Hollywood, which bills itself as the only fetish art gallery in the United States. The French Quarter also has long been a gathering place for members of the LGBT recovery community.
The French Market was opened by Arthur Simm in 1974, 10 years before West Hollywood's incorporation as a city. His grandsons Chris and Mike own the Simms Restaurant Group. It owns restaurants such as Simmzy's and Tin Roof Bistro in Manhattan Beach.
In an interview in February with WEHOville, Marc Ittah, the business partner of Michael Faze, who bought the French Market in 2011, said the restaurant would be reopened after the remodeling. But rumors continue to circulate that Faze intends to demolish the building and convert the property to another use. Ittah did not return calls from WEHOville for comment.