Holly Woodlawn, the transgender performer who was a legend at Andy Warhol's Factory and the subject of Lou Reed's 1972 song "Walk on the Wild Side," has been hospitalized at Cedars-Sinai Medical Center.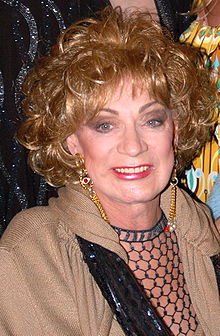 Woodlawn, a West Hollywood resident, is suffering from lesions to her brain and liver according to a report in the Hollywood Reporter. Penny Arcade, another celebrity from the Warhol era who lives in New York City, has launched a crowdfunding campaign to raise money to provide Woodlawn with nursing care and to bring her home if the lesions are determined to be fatal. As of this writing, the four-day campaign has raised $40,553 of its $50,000 goal.
Woodlawn, who is 68, was born Haroldo Santiago Franceschi Rodriguez Danhakl in Juana Díaz, Puerto Rico. Woodlawn grew up in Miami Beach. At the age of 15 she decided to head for New York City.
"I was 15 years old and failing at high school in Miami Beach because I was too busy partying," she said in a 2007 interview with the Guardian. "I was supposed to go to summer school to catch up and really didn't want to, so I joined some of these Cuban queens to go to New York. I hocked some jewelry and we made it all the way to Georgia, where the money ran out and we had to hitchhike the rest of the way."
It was that adventure that inspired Reed's lyrics in "Walk on the Wild Side":
"Holly came from Miami F-L-A,
"Hitchhiked her way across the USA,
"Plucked her eyebrows on the way,
"Shaved her legs and then he was a she …"
Woodlawn embraced her transgender identity early on but decided against having sexual reassignment surgery. "Honey, once they cut it off, it's OFF!" she said in the Guardian interview. In 1969, shortly after arriving in New York City, she became part of the crowd at Warhol's Factory, which was his art studio and also a gathering place for drag queens, socialites, drug addicts, musicians and the occasional socialite.
That year she also starred in "Trash," directed by Paul Morrissey, which brought Woodlawn greater fame in New York's riotous art subculture with its portrayal of sex and drugs. In 1972 she starred in Morrissey's "Women in Revolt." Woodlawn's movie career never really took off. "But it was worth it," she told the Guardian. "The drugs, the parties, it was fabulous. You live in a hovel, walk up five flights, scraping the rent. And then at night you go to Max's Kansas City where Mick Jagger and Fellini and everyone's there in the back room. And when you walked in that room, you were a STAR!"