The West Hollywood Sheriff's Station has released a sketch of a man who is a suspect in the assault of Kirk Doffing in the Boystown nightlife area on May 24.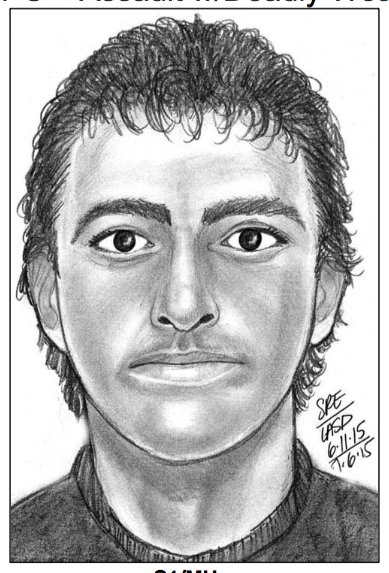 Doffing was involved in a dispute with as many as three or four men, one of whom apparently hit him with his fist several times. Doffing fell to the ground and hit his head on the pavement, fracturing his skull. The attack resulted in Doffing being put into a medically induced coma. He currently is out of the coma but is unable to speak.
The City of West Hollywood last month offered a reward of $10,000 for information leading to the arrest and conviction of Doffing's assailant after a public outcry about a string of attacks involving those who work at or patronize the string of gay bars and clubs on Santa Monica Boulevard from San Vicente to Robertson. The most recent was the assault on June 22 on Benjamin Castro, a DJ who had been performing at Micky's, the Santa Monica Boulevard gay bar. Castro, known as DJ Ben, was assaulted on San Vicente Boulevard at Melrose Avenue around 2:50 a.m. after he left work.
Doffing, a West Hollywood resident, was said to have been visiting Rage, the bar on Santa Monica Boulevard at San Vicente, before he attacked. That attack, allegedly by three or four Latino men, left Doffing in a coma for several weeks and prompted local residents to demand that the City Council take steps to improve safety in the area.  According to the Sheriff's Station, the suspects in the Doffing attack were Latino men in their early 20s who were wearing dark clothes.  They were last seen running south on San Vicente Boulevard toward Melrose.
Ben Coleman, a public safety activist who manages the Keep WeHo Safe Facebook page, has noted that generally there are no more than two deputies on foot patrol in the Santa Monica Boulevard nightlife district between 8 p.m. and 3 a.m. on Friday and Saturday nights. While West Hollywood is one of the smallest and most densely populated city in California, the L.A. County Sheriff's Department deputies who provide police services to the city generally patrol in cars rather walk than on the sidewalks. Coleman also has noted that deputies generally return to the Sheriff's Station by 2 a.m. to file reports, meaning they aren't on the street when bars in the area close and empty their intoxicated patrons on the street.
The L.A. County Sheriff's Department has reported that the city's rate of violent and property crimes last year was the highest of any of the 23 areas it patrols. The rate was 98 percent higher than that of the department's South Los Angeles Station and 38 percent higher than that of its Compton Station.
Anyone with information about Doffing assault or the person portrayed in the sketch is asked to call Detective Michael Berbiar at (310) 358-4011.  Informants who want to remain anonymous can offer information at www.lacrimestoppers.com