A man apparently was beaten in the early hours of Monday morning in another in a series of attacks on those working in or patronizing West Hollywood's Boystown nightlife district.
WEHOville was alerted to the attack by readers who know one of the victims, Jose Segovia, known as Joe Sego. Sego is a young Latino who works as a model and performs as a go go dancer at bars such as Revolver along Santa Monica Boulevard. He was allegedly attacked while out with a friend named Alex Barragan. Sgt. Richard Bowman at the West Hollywood Sheriff's Station said Segovia called to report the attack several days after it happened, saying he was too embarrassed to call on the night that it occurred.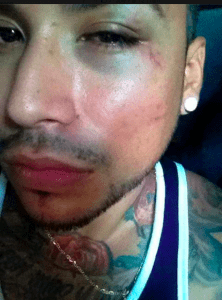 Bowman said Segovia reported that a black man approached him on Santa Monica Boulevard near Rage, the gay bar, got in an argument with him and then punched him in the back of the head and in the eye. Segovia said as many as ten other black men then also attacked him before running away west on Santa Monica Boulevard.
In a posting on Facebook, Dak Eubanks, a friend of Segovia's, offered an account of the attack. "Joe and Alex Barragan were out having a good time in West Hollywood (Weho), a well known gay area of Los Angeles," Eubanks wrote. "They were both jumped, called names such as fags, faggots, wet backs, and 'go back to your country.' Alex said about ten people were jumping them, and nobody did anything to help."
While the racial and sexual orientation slurs were mentioned in Eubanks' posting on Facebook, they were not mentioned by Segovia when he told the Sheriff's Station about the attack.
Another recent incident was an attack on Benjamin Castro, a DJ who had been working at Micky's, the gay bar at 8857 Santa Monica Blvd. at Larrabee, around 2:50 a.m. on June 22. The West Hollywood Sheriff's Station said that someone has been arrested in that attack but has refused to name the assailant. According to WEHOville sources, in this case the attacker was another gay man who accused Castro of flirting with his boyfriend.
The most controversial attack, however, was an assault on Kirk Doffing, a West Hollywood resident, near Rage, the gay bar on Santa Monica Boulevard at San Vicente, on Memorial Day weekend. That assault left Doffing with a fractured skull, and he was in a medically induced coma for several weeks. The Doffing attack inspired nearly 50 of his friends and co-workers to attend a city Public Safety Commission meeting and a City Council meeting to demand the city take action. As a result, the city is offering a reward of $10,000 for information leading to the arrest and conviction of Doffing's attacker. Yesterday the Sheriff's Station released an image of the alleged attacker, which appeared on the Facebook pages of two City Council members. WEHOville requested a copy of the poster on June 15 but only learned of it after those Facebook postings yesterday and then was able to secure a copy from the city's Public Safety Director, which it has published.
Other attacks have included the robbery in December of two employees of Micky's, one of whom was stabbed, on Palm Avenue in December on their way home from work around 1 a.m. There have been various other assaults, with some of the victims claiming a late response by the Sheriff's Station to their calls for help and an attitude of indifference on the part of Sheriff's deputies. Sgt. Bowman, however, said he is puzzled why those who might have witnessed an attack like that claimed by Segovia don't contact the Sheriff's Station, which is across the street. "I'd like to think that if something happened like that on Santa Monica Boulevard across from the station somebody would have called, Rage would have called," he said.
Several other bar-goers who claim to have been assaulted have contacted WEHOville but refused to let WEHOville disclose their names, so it is impossible to verify their claims.
A report on crime during June in West Hollywood shows a decline in reported assaults overall in the city compared to June 2014. According to the report there were 15 this year and 21 in June of last year. Nine of the 15 occurred on the city's Westside, a decline from 13 in that area last year. Three occurred on the Eastside, down from four last year. And three occurred in the central part of West Hollywood, also down from four in June 2014.
The most common serious crimes were petty theft, with 48 incidents this June compared to 47 a year ago, and vehicle burglary, with 27 incidents compared to 26 a year ago. Grand theft showed the largest increase, with 23 incidents this June compared to 16 in June 2014. Under state law, grand theft is defined as a crime in which property worth more than $950 is taken.