West Hollywood's Public Safety Commission will discuss tomorrow suggestions by some residents that West Hollywood install surveillance cameras in highly trafficked areas of the city to reduce crime.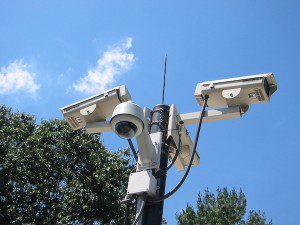 Discussion of such cameras has been sparked by a number of assaults in the city's Boystown gay nightlife district in recent months. One of the most controversial was the May 24 assault of Kirk Doffing near Rage, the gay bar on Santa Monica Boulevard near San Vicente. Deputies investigating the attack have requested and viewed videos from those few businesses in the area that have such cameras in a so far unsuccessful effort to identify the attacker.
So-called closed-circuit television (CCTV) cameras have been installed in cities around the world in an effort to improve public safety. The United Kingdom is estimated to have one camera for every 32 residents. Chicago reportedly has at least 15,000 cameras, and they have been installed in parts of New York City and Washington, D.C.
While such cameras have resulted in major successes — the identification of those involved in the Boston Marathon bombing and those responsible for the 2005 London attacks — organizations such as the American Civil Liberties Union have expressed concern about possible invasions of privacy and misuse of information gather by the cameras. Various studies also have shown CCTV to have only a minor effect on crime reduction in areas other than parking structures and public parking lots.
The Public Safety commissioners also will hear from representatives of the West Hollywood Sheriff's Station and the Los Angeles Fire Department about their plans for deploying deputies and firefighters in West Hollywood this summer. The Sheriff's Station recently announced the formation of a new four-person foot patrol to patrol the nightlife area on the western end of Santa Monica Boulevard six days a week and the Eastside at Santa Monica and La Brea on one night a week.
The commission meeting, which is open to the public, will take place at 6:30 p. m. at the community meeting room at the West Hollywood Library, 625 N. San Vicente Blvd., south of Santa Monica. Validation for parking in the five-story structure on El Tovar Place is available at the meeting.