The intersection of Santa Monica and Robertson boulevards in West Hollywood is the 19th most dangerous for pedestrians in Los Angeles County according to a study by the Los Angeles Times.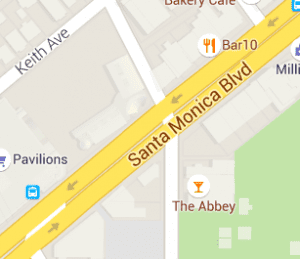 The Times analyzed pedestrian accidents from 2002 to 2013 for the study, identifying 579 intersections where the accident rate was higher than average. According to the Times analysis, nearly a quarter of all pedestrian accidents take place at only one percent of traffic intersections. The Times study ranked the danger of intersections by how much the number of pedestrian accidents deviated from the mean.
There were 58 collisions during the 12-year period of the study at the Santa Monica / Robertson intersection in West Hollywood. Twenty-four of them involved pedestrians, four involved bicyclists and nine were hit-and-runs. There were no fatalities.
The most dangerous intersection was Slauson Avenue at Western Avenue in Los Angeles, with 158 collisions, 40 of which involved pedestrians (two of whom were killed), 10 of which involved cyclists and 48 of which were hit and run. The second most dangerous was the intersection of Hollywood Boulevard and Highland Avenue, with 154 accidents, 38 of which involved pedestrians, 10 of which involved cyclists, and 43 of which were hit-and-runs. There was one pedestrian fatality at that intersection.
Other intersections in the top 100 of the Times' ranking that are in or adjacent to West Hollywood include:
No. 27. Santa Monica Boulevard and Orange Grove Avenue. Twenty six accidents, 17 involving pedestrians, one involving a cyclist and three hit-and-runs.
No. 56. Sunset Boulevard and La Brea Avenue. One hundred eight five accidents, 26 involving pedestrians, 23 involving cyclists, and 43 hit-and-runs.
No. 61. Sunset Boulevard and Detroit Street. Forty-six accidents, 16 involving pedestrians (one fatal), two involving cyclists, and nine hit-and-runs.
No. 93. Santa Monica Boulevard and Hayworth Avenue. Twenty-three accidents, 13 involving pedestrians and four hit-and-runs.
After several collisions involving cars and pedestrians last year, the City of West Hollywood launched a pedestrian safety campaign that has included public advertisements warning pedestrians to pay attention when they cross the streets, small signs between traffic lanes warning drivers that they are approaching a pedestrian crosswalk and a study that will result in traffic lights at major pedestrian crosswalks on Santa Monica Boulevard that will be coordinated with traffic lights at existing traffic intersections.