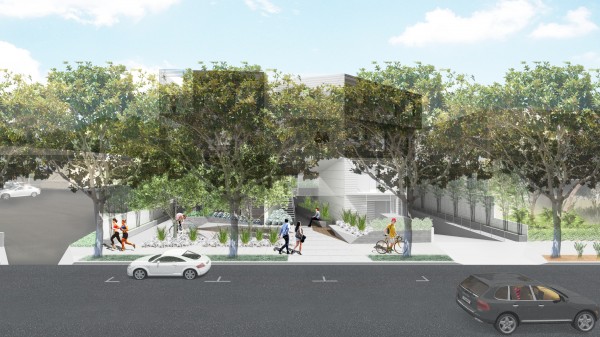 The West Hollywood Planning Commission last night approved construction of a condominium building at 1028-1030 N. Kings Rd. after a lengthy hearing at which dozens of nearby homeowners objected to the project.
The Commission endorsed the project in a five-to-two vote, with Commissioners Sheila Lightfoot and Heidi Shink voting against it.
The site of the four-story condominium building is right behind the Gelson's grocery store on Santa Monica Boulevard. It would have 30 units, including two for low-income people and three for moderate-income people, and 58 parking spaces in an underground garage. It would replace two single-family homes on adjacent lots.
In the well-orchestrated campaign against the project, speakers before the Commission raised numerous objections. Among them was that the city's planning staff had not required a study of its impact on the environment because of the extra traffic it would generate and that it would make parking more difficult to find. Those opposed to the project also repeatedly complained that the city, in assessing such projects, only looked at an individual project's impact on a neighborhood and not at the cumulative impact of all such projects in the area. Among the other projects in the area are a mixed-used building at 8350 Santa Monica Blvd. on the southwest  corner of Kings that will include 20 condos and retail space and a five-story condominium building at 826 N. Kings Rd. that will include 34 condos and apartments for low- and moderate-income people. The 826 N. Kings Rd. project, which will be re-evaluated by the Planning Commission at the request of the developer, is what galvanized homeowners in the area to form United Neighbors for Responsible Development (UNReD) to fight new development.
William Peris, speaking for the homeowners association of the condominium building at 1015 N. Kings Rd., said the residential street has become a thoroughfare for traffic between Melrose Avenue and Santa Monica Boulevard and that adding more housing would make things worse. Cynthia Blatt, head of UNReD, said the city should demand that the developer of the project, a company headed by Victor Hadad, conduct an evaluation of its impact on the environment under the requirements of the California Environmental Quality Act (CEQA). CEQA, a law signed by Gov. Ronald Reagan in 1970, is frequently used by those opposed to new developments to block them or delay them.
Roy Rogers Oldenkamp, vice president of the West Hollywood Preservation Alliance, asked the Planning Commission to delay action on the project while his group prepares an application for the state to declare the house at 1030 N. Kings Rd. as historically and culturally significant, which he said could take six to nine months. That house, built in 1957, was designed by Kemper Nomland Jr., part of a father-son team known for their modernist architecture in the 1940s and 1950s. Oldenkamp called it out as a good example of the shift toward modernist design in West Hollywood, which previously had been dominated by Spanish Colonial and other older forms of architecture.
In response to some of the objections, members of the city's planning staff noted that they had analyzed the total impact of traffic from three of the proposed projects and found that daily car trips generated by them fell well below the level that would require an environmental impact study.
Planning commissioners praised the design of the project, whose architect is Lorcan O'Herlihy. John Altschul said the building's design was far superior to most of what currently is on North Kings Road. Altschul, who said he has owned property on Kings Road for 35 years, also said he has no problems driving down the street. Marc Yeber, who ended his tenure of about 10 years on the Commission at the Monday meeting, said he didn't see how the project could be seen as oversized given that it met the requirements for the area, which is zoned for high-density development. His support was echoed by Commissioner Sue Buckner, who said what some residents see as a surge in new development in West Hollywood is a result of the end of the Great Recession, during which a number of projects were put on hold by their developers. The project also was supported by Commissioner Donald DeLuccio, who noted that the developer actually could have added another floor to the four-story building but chose not to. Commission Chair Roy Huebner, addressing concerns about rampant development, said development is cyclical and might ease again in coming years as it did during the recession.
Heidi Shink said that while project appears to meet the city's zoning requirements, she agrees with residents that it will have a negative impact on their quality of life. "I think that Kings Road represents a microcosm of what is happening in our city," she said. Shink, who shifted her stand on development on Kings Road during her unsuccessful campaign for a City Council seat in the June election to oppose the 826 N. Kings Rd. project, said she was voting against the project because "I believe it is completely incompatible with the quality of life of the residents there."
Sheila Lightfoot, a newly appoint commissioner who has developed a reputation for opposing new development projects, also voted against this one. Among her arguments against it were that purchasers of condo units would suffer from shade from an existing adjacent building and might not like that the building's courtyard fronted on the Gelson's parking lot. "We need an item in the zoning code that has to do with livability," she said.