West Hollywood will add two people to the "Block by Block" bicycle security team that patrols Santa Monica Boulevard.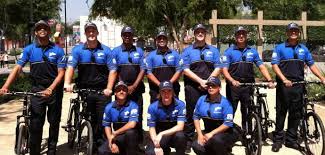 The City Council agreed tonight to appropriate $100,000 to add the two security ambassadors to the current team of 14. That will bring the total appropriated for the security staff to $1.5 million. The security ambassadors are provided by Mydatt Services Inc., which also provides security services for the Sunset Strip Business Association.
The bicycle security team notifies the West Hollywood Sheriff's Station of crime or suspicious activity that it sees along Santa Monica Boulevard from Doheny on the west to La Brea on the east and also monitors alleys and parking lots.
The additional bicycle security ambassadors are the latest step the city is taking to improve safety in nightlife areas after a spate of attacks. The Sheriff's Station announced earlier this month that it was adding four deputies to the two-person foot patrol it had placed on Santa Monica Boulevard https://wehoville.com/2015/07/09/weho-sheriffs-station-launches-major-effort-to-combat-nightlife-crime/. The four additional foot patrol deputies will patrol the city's Boystown gay nightlife area on the western end of Santa Monica Boulevard six nights a week and patrol the area around the intersection of Santa Monica and La Brea on one night a week.