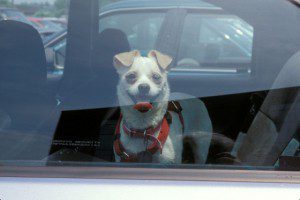 West Hollywood will launch a campaign to warn drivers of the danger of leaving children and pets unattended in cars.
The campaign, proposed by City Councilmember Lauren Meister, will include signs at city parking lots and parking structures and city parks and materials to be distributed with mailings about rent stabilization and recreational services. Information also would be distributed at the cooling centers they city operates for local residents during especially hot periods.
"On a 78-degree day, the temperature inside a parked vehicle can soar to between 100 and 120 degrees in just minutes, and on a 90-degree day, the interior temperature can reach as high as 160 degrees in less than 10 minutes, even with windows cracked open," says a memo from Meister. "There are many people who are unaware of how quickly the interior temperature of a vehicle can rise in warm weather, so this item proposes an education campaign regarding the dangers of leaving children and/or pets in vehicles."
In June Meister proposed that the city's traffic enforcement agents be authorized to ticket cars in which pets were left unattended. That proposal was part of a much larger effort by Meister to make changes in the city's parking meter enforcement hours and other parking regulations, much of which was rejected by other Council members.