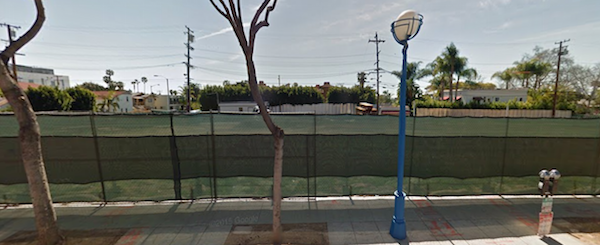 It's hard to imagine anything more valuable in West Hollywood than a lot almost one acre in size on Santa Monica Boulevard at the intersection with Crescent Heights Boulevard in the heart of the city. The City of West Hollywood has negotiated with Walgreens to purchase that lot, on which Walgreens once had planned to build a drugstore and other shops and 20 apartments. The City Council is likely to decide next month whether to proceed with the $7 million purchase.
If the city buys the lot, what should it do with it? There are some obvious choices: Build a parking structure. Build apartments for low-income and moderate-income residents. As we all know, there is a need for both.
But WEHOville would like to hear more creative suggestions from the local residents who are our readers. Some examples to stimulate your thinking:
Should the city, whose economy is heavily dependent on tourism, build an "incubator" office building to house digital startups, which now call places such as Venice or Santa Monica home? An incubator could offer a subsidized rent to startups that meet certain qualifications (number of employees, size of investment) and offer accounting, legal and other business services at a discount. There are several digital startups launched by West Hollywood residents that have had to locate elsewhere for lack of office space and services. Should the Creative City take steps to foster the sort of "creative economy" that Richard Florida, the urban theorist, says is essential for a city's long term growth and success?
What about using the Walgreen's property as an athletic park? The city is spending more than $10 million an acre to redevelop West Hollywood Park into a beautiful monument. But while the park will have tennis courts and a swimming pool (and a reduced number of basketball courts) and continue to offer athletic activities for children, it wasn't designed to accommodate the half dozen or more softball, soccer, kickball and other gay sports leagues, many of whose adult members are West Hollywood residents and must travel to other cities to play. In fact, the first annual WeHo Sports Festival, which the City Council recently allocated $25,000 to launch in September, will take place at UCLA because there is no place to host it in West Hollywood.
While West Hollywood needs housing for the elderly and the disabled, it also needs housing for young people who find our city increasingly unaffordable, in part because of strong resistance to those who already own homes here to building more housing, which is necessary to drive down rents. One solution raised by some residents is construction of so-called "micro-units," apartments of as little as 200 square feet. Such units are being built in other cities around the country to house single young people. Their small size means a developer can build two to three times as many units as would normally be the case on a single lot, which means the units can rent for less.
And then there's the possible combination of uses — a parking structure with a park on its roof, for example. Or an underground parking structure with micro units or an incubator building above it. Other residents such as Josh Kurpies already have offered creative ideas in comments to a story published on July 16.
WEHOville invites you to offer your suggestions here for consideration by your fellow residents and City Council members in the form of comments on this article. We'll post all suggestions. But because our goal is to stimulate creative thinking, we won't publish criticism of the suggestions of others. Feel free to applaud someone's suggestion. But if you don't like an idea someone else has offered, come up with a better one on your own and let us hear it!