Three young heterosexual men began using the slur "faggot" today in an incident inside the Starbucks coffee shop at 8598 Santa Monica Blvd., a major gathering spot for gay men in West Hollywood, that spilled over into a confrontation outside and drew the attention of Sheriff's deputies. The three heterosexual men appeared to be African-American or Latino and ranged in age from about 18 to 23 according to witnesses to the altercation interviewed by WEHOville.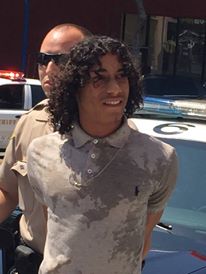 The incident is the latest in an apparent series of violent and near-violent encounters in and near the city's Boystown gay neighborhood that have prompted local residents to demand more action from the West Hollywood Sheriff's Station and express concern about their safety. Previous incidents have occurred on Santa Monica Boulevard near San Vicente in the heart of the gay nightlife district. The assault of Kirk Doffing on Memorial Day weekend near Rage, the gay bar, which left him in a medically induced coma for weeks, sparked a major outcry for improvements in policing the area. In response, the Sheriff's Station received additional funding from the city to add a four-person foot patrol in the area six nights a week, replacing a previous two-person patrol. There have also been nighttime robberies on Santa Monica Boulevard and on Palm Avenue, where an employee of a gay bar was stabbed and his companion was beaten in December. While the gay nightlife area is concentrated on Santa Monica Boulevard between San Vicente and Robertson, the Starbucks coffee shop on Santa Monica near Westmount, several blocks east, is the prime daytime social spot for gay men in West Hollywood, many of whom work from there. It is known by its gay customers as "Gaybucks" or "BGS" (Big Gay Starbucks.)
Joseph Daniels, a photographer who was present at Starbucks this morning, said the incident began a little after 11 a.m. when the men were in line waiting to order coffee and began using profane language like "faggots." Daniels said another customer told them their behavior was rude, and the manager of Starbucks appeared and asked one of the men to leave. As he left, Daniels said, "he was screaming and pointing 'you will die f–ing faggots'. It was very scary and unexpected."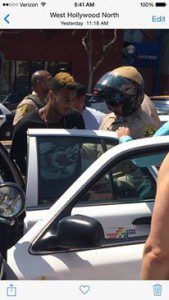 Daniels said Leslie Jordan, the gay actor and screenwriter, yelled at the men to leave, saying "get out of my house." Jordan, who at 4'11" is known for his diminutive stature as well as his Southern accent, is a regular at that Starbucks. Daniels said Jordan followed the men outside objecting to their language, and he and another customer walked outside to protect Jordan. "The guy lunged at Leslie to hit him," Daniels said of one of the men. "Then Leslie threw his drink at the guy. Then (another) guy threw his drink to hit me."
Daniels said Sheriff's deputies showed up quickly and spent about 45 minutes interviewing those present at the altercation. He said deputies urged the gay men not to file charges against the others, saying that if they did the men screaming "faggots" could accuse Jordan of assault for throwing his coffee at one of them and the deputies would have to arrest Jordan. Daniels said the three men then walked away, headed east on Santa Monica and making obscene gestures to the gay men and continuing to call them "faggots."
Deputy Peter Sullivan at the West Hollywood Sheriff's Station said a report filed by deputies on the scene said "the deputies talked to all the persons. None of them were desirous of  filing charges against another person."
Daniels disputed that, saying that the gay men who were present didn't file charges because they were warned that they might also face charges and be arrested. "He provoked it," Daniels said of one of the three men. "He spewed hate crime words against everybody and threw a drink at Leslie. Why couldn't he have been charged with disorderly conduct?" Others posting comments on Daniels' Facebook page also questioned why charges weren't filed.