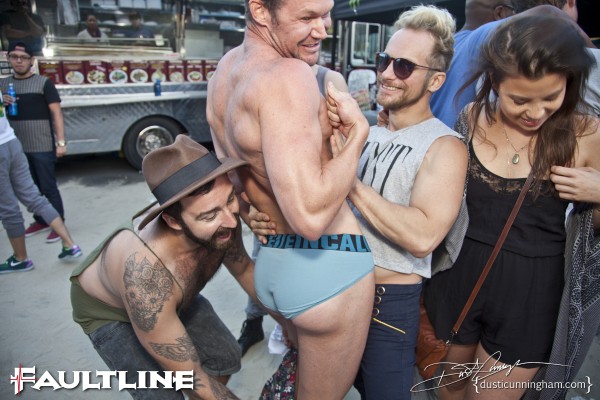 It should come as no surprise if a gay Dorothy from West Hollywood who wanders into Faultline turns to her Toto and says: "We're not in WeHo anymore."
It's pretty much always been that way, or at least for the almost 40 years since the opening of The Stud, the Levi/leather cruise bar on 4216 Melrose Ave. east of the 101 near Vermont Avenue that morphed into Griff's and now Faultline. As always, styles change, as do the stereotypes they feed. Today, the look in West Hollywood is that black baseball cap topping that undercut hair (make sure the lip is facing backwards!), a black tank top or side cut t-shirt that shows you're muscular and cut, and black socks extending at least six inches above your Nikes or Adidas sneaks. Oh, and you're white. You could call the stereotype "peacock." At Faultline? You'd be forgiven for thinking you've walked into a gay United Nations with a crowd from across the homo spectrum. It includes guys with the bear style, a cholo vibe, a leather look, an eyebrow-plucked twinkiness, a touch of drag and, yes, those WeHo peacocks. And they all appear to be comfortable with one another.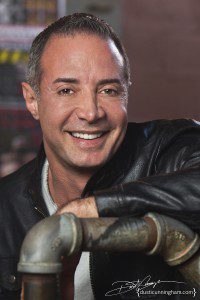 It's that crowd, and a dive bar interior decorated with porn videos, naughty neon by Brian Currie, and provocative art by William Webster and Tom of Finland, that convinced Jorge Usatorres, the asset director and risk manager for a major commercial investment company, to make Faultline his. On Saturday Usatorres celebrates the one-year anniversary of his purchase of the bar. Over the past 12 months he and his staff and the promoters he works with have managed to make Faultline a hot destination for hip, younger gay guys, further spicing up and enlarging the audience that the success of any bar depends on.
Why did a financial executive buy a dive bar? "I heard a rumor that this place was available," Usatorres recalled. "When I walked on the property, I had never been here before. I was a total corporate guy who, if I went out, I went to West Hollywood."
Usatorres said he decided to evaluate Faultline like he would any piece of real estate that he was trying to put a value on. He walked into the barnlike back door of the bar, which opens onto a space with an expansive view of the sky, a DJ booth and places for go go dancers to perform. "I saw something that was almost transformative," Usatorres said. "It wasn't made up to be pretty. It was real. I bumped into every one of the six flat panels playing porn, and said 'Oh my!'"
"I thought, 'I love this place.' I felt more comfortable here than I felt in any other bar."
Soon after his tour of Faultline, Usatorres met with Shawn Farnsworth, the bar's owner, and struck a deal. Farnsworth had purchased Faultline in 2001 from Bill Hobson and Ralph David Morrison III, friends of his who had bought the bar in 1993. However its history as a gay hangout extends back almost 40 years. It had been known as the Stud before being converted into 1988 to the Zone and then in 1989 Griff's. Griff's was owned by Griff Griffin, a member of the Satyrs MC, the gay motorcycle club who died in 1993. Usatorres, who chokes up at times as he recalls his visit, said he now considers Farnsworth a friend and a trusted advisor.
Since acquiring Faultline, Usatorres has applied his business acumen to make a few changes to bolster what he considers the bar's strong brand value. In the section of the bar fronting on Melrose, he ripped out the ceiling, exposing raw wood rafters that add to the barn-like feel that appeals to the Faultline crowd. He also installed some furniture — a couch, a few armchairs — to reinforce the notion that Faultline is a social hangout and not just a party place. The response from Faultline's customers has been positive.
"I run this like a restaurant," Usatorres said. "I'm your maitre'd. My job is to ask you questions and listen to your responses."
He also works with the promoters that are an important part of Los Angeles gay nightlife to make sure Faultline appeals to a young crowd as its older audience moves on. "The demo that build this place has gotten married, moved to Palm Springs," Usatorres said. "It has evolved. That's how it should be." His goal he said, is to continue to make Faultline "a place where all roads converge in the gay community. This is a place where everybody leaves their attitude behind …. In WeHo, if you're not pretty, you're second fiddle."
The promoters are the ones who organize special events at bars and clubs and, equally as important, tap their following of fans to get them in the door. Among them are Mario Diaz, who transformed New York City gay nightlife in the early 1990s with the opening of The Cock on Avenue A in the East Village. Diaz and DJ Chris Bowen are responsible for Brutus. Then there are Shawn Morales and co-hosts Miles Davis Moody and Tito Soto, who put on Big Bad Wolf. There are a variety of DJs, including James Cerne (who also does go go dancing) and Josh Peace. Perhaps the biggest standout event is the Boulet Brothers' Dragula, where the big and bearded drag queens remind one more of San Francisco than West Hollywood. Usatorres says he meets with the promoters regularly to discuss what works and what doesn't — a business approach that is a bit unusual in the gay nightlife world. He sees part of his job as promoting the careers of the promoters as well as building the Faultline brand. "I've been trying to mentor them into their bigger vision. They are providing a product…. Together we have evolved into these nights that are produced for the people, not me or them."
Faultline is celebrating its first year anniversary under Jorge Usatorres' ownership on Saturday night with complimentary Smirnoff cocktails from 10 to 11 p.m. and music spun by DJs Josh Peace and Omar Di Jou.