West Hollywood's PickUp shuttle will head east on Friday to La Brea Avenue. And on that night there will be a party nearby to celebrate its extension to the city's Eastside.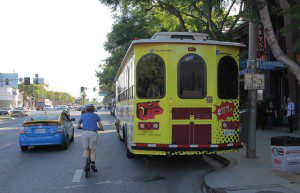 The PickUp is a shuttle launched in August 2013 that has offered free rides on Fridays and Saturdays from 8 p.m. to 3 a.m. along Santa Monica Boulevard between Robertson and Fairfax. Through Aug. 30, it also runs on Sundays from noon to 10 p.m. Its goal has been to offer easy access to patrons of the bars, restaurants and clubs on the city's Westside nightlife area while alleviating parking problems and reducing the risk of driving under the influence. Its success moved the City Council earlier this year to authorize extending the PickUp's run to La Brea Avenue, also the site of a number of popular bars and restaurants.
The city's PickUp "Goin' All the Way Party" will take place on Friday from 6 to 8 p.m. at Harlowe, 7321 Santa Monica Blvd. between Fuller and Greenacre avenues. The will feature DJ Derek Monteiro and pop-up performances from West Hollywood personalities such as Delta Work, Pandora Boxx and Mayhem Miller from RuPaul's Drag Race, Vicky Vox from Magic Mike XXL, and local favorites Allusia and Misty Violet. The celebration is free and open to the public. Food and refreshments will be served.
The PickUp's social media event invitation proclaims: "You said you wanted it, so here we come," and "I'm sorry I was such a tease before." Details for the PickUp Goin' All the Way Party are pinned in a link on the PickUp's Facebook page.