(This video is the exclusive property of WEHOville.com and cannot be republished without its permission).
UPDATE:  Sgt. Richard Bowman of the West Hollywood Sheriff's Station said the video of the armed robbery on Wetherly Drive was taken by a camera installed on a nearby building and not by an individual observing the robbery.
A West Hollywood man who was walking his dogs on North Wetherly Drive near Cynthia last night was the victim of an armed robbery captured on a disturbing video — one of apparently two that occurred in the Norma Triangle neighborhood.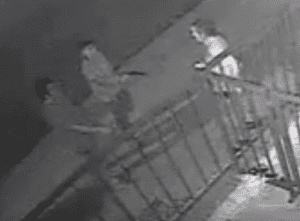 The video, taken by a camera installed in a neighboring building, shows a Chrysler 300 pulling up the street and parking at around 11 p.m.. As a man walking two dogs passes the car, the driver of the car turns on flashing lights, apparently to alert his accomplices.
Then two men walk up Wetherly toward the car and the man with his dogs. The video shows the two robbers pulling their guns and removing something from their victim's rear pocket. They then head for the parked car and drive away. A neighbor of the victim told WEHOville that the robbers asked for his keys, which included car keys and apartment building keys, and his mobile phone. He did not have his wallet with him when the robbery occurred. The neighbor said the victim provided the license plate number of the Sheriff's Station.
"We live in a really quiet neighborhood,: said the neighbor, who WEHOville agreed not to identify, referring to the Norma Triangle area. "But we have a lot of issues with burglary."
Sgt. RIchard Bowman of the West Hollywood Sheriff's Station said a similar but unsuccessful robbery attempt was made, apparently by the same men, last night on Doheny Drive near Cynthia.