Beverly Hills police officers pulled over a car last night on Sunset Boulevard near Hammond that contained three men who are likely suspects in several recent armed robberies in West Hollywood's Norma Triangle.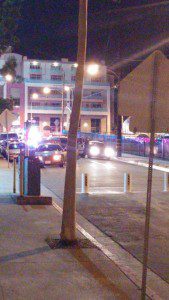 The men were stopped around 10 p.m. last night driving the same car caught in a video of one of the robberies on Aug. 9. The Beverly Hills police notified the West Hollywood Sheriff's Station, whose deputies took the men into custody. Lt. William Nash at the Sheriff's Station said detectives are interviewing the men to try to determine if they are the suspects. Two of them are under 18, he said, and one is an adult. No further information is available at this time.
One of the robberies, of a West Hollywood man who was walking his dogs on North Wetherly Drive near Cynthia Street on Aug. 9, was captured by a video  camera installed on a nearby apartment building. The video, posted above, shows the two robbers pulling their guns and removing something from the man's rear pocket. They then headed for a parked car and drove away. A neighbor of the victim told WEHOville that the robbers asked for his keys, which included car keys and apartment building keys, and his mobile phone.
The same men apparently committed another robbery on Hilldale Avenue near Cynthia Street and a third on Doheny Drive near Cynthia.