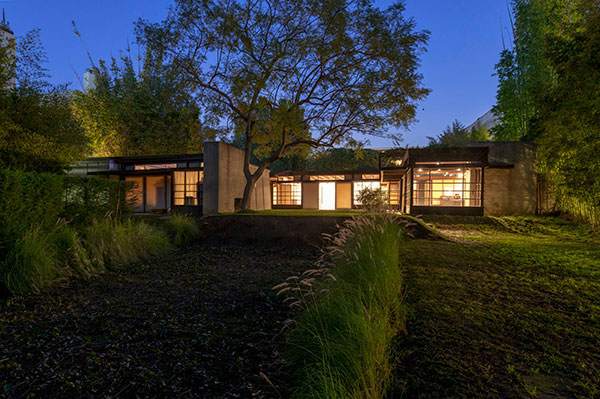 With North Kings Road development issues in the news (again), let's take a few minutes for a refresher course on lesser-known events in the street's history. These tend to lurk in the background of larger stories but they still contribute to what residents call the neighborhood's atmosphere. The news, at least, can never be demolished regardless of the outcome of current density debates.
Planners Nearly Ground Space Architecture
Everyone knows that maverick architect Rudolph Schindler built his now-iconic house at 835 N. Kings Rd. The home assured the street would be forever associated with a distinctive Southern California style of modern residential design. But did you know how very close it came to never being built?
Local planning authorities initially denied Schindler's request for a building permit, citing his novel "tilt-slab" construction technique as being "too radical" for that time (1922). Many trips and extensive talks later, planners relented somewhat by granting Schindler a temporary permit. This meant that the building department reserved the right to halt construction at any stage.
That didn't happen, of course, and Schindler went on to design some 500 projects. Almost 150 were built using his "radical" Schindler Frame technique. The modernist studio-residence remains a West Hollywood landmark visited by thousands of architectural enthusiasts annually. It has been listed in the National Register of Historic Places since 1971.
Huxley's Haunted House
How many have heard the unusual story about the death of Aldous Huxley's first wife, caretaker and companion of 36 years? Maria Huxley died of breast cancer at their 740 N. Kings Rd. home in 1955. Friends said her death caught the author of "Brave New World" (1932) almost by complete surprise – he was legally blind and unaware of his wife's terminal illness until her final week. She also had tried to keep her illness to herself for as long as possible.
Then the story got spooky when a local newspaper columnist reported that Maria Huxley's ghost "haunted the house." The reporter was Paul Coates, known for his popular daily newspaper column in the Los Angeles Mirror-News.
For whatever reason, Huxley moved from the Kings Road house in 1956. A 72-unit condominium development was built in 1973 on the site of their former home. There was no further word about her ghost, officially or otherwise.
The house looms large in literary history and in rock 'n' roll folklore as the place where the British writer with mystical inclinations first took mescaline and began his legendary experimentation with psychedelic drugs. Huxley described those experiences in his 1954 book, "The Doors of Perception." He took the title from a poem by English romanticist William Blake – a line that also inspired the name that Jim Morrison would give his rock band slightly more than a decade later.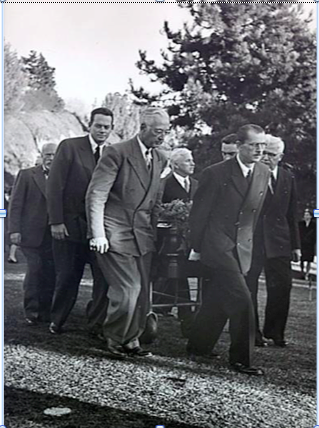 The Pall Bearer Was a Tramp
There's plenty of documentation about Theodore Dreiser, author of "Sister Carrie" (1900), and his relocation to Los Angeles from New York in 1938 with his lover and second cousin, Helen Richardson. They lived at 1015 N. Kings Rd. from 1938 until his death there in 1945.
But you may not know who served as lead pall bearer for Dreiser's funeral at Forest Lawn Cemetery – his official bio at Dreiser Online doesn't even note that it was none other than Charlie Chaplin, a close friend and frequent bon vivant at several Kings Road homes.
Chaplin kept a writing studio only a few steps away at 819 N. Sweetzer Ave. The group of English-style cottages where he did much of his writing is a boutique hotel today that bears his name, The Charlie.
Actors and Rockers and Hookers, Oh My!
The City of West Hollywood's website notes that North Kings Road "is exemplified by its prestigious list of residents" that includes accomplished actors such as Jane Wyatt, Ray Milland and Betty Furness, in addition to Huxley and Dreiser. More recent residents have been Billy Bob Thornton and singer-songwriter Warren Zevon.
You'll have to look elsewhere, though, to learn that the home Milland rented at 1005 N. Kings Rd. in 1936 was a former house of prostitution, at least according to the website Movieland Directory.com. Likewise, it takes some digging to get information about the happenstance pairing of Thornton and Zevon as neighbors in the same North Kings Road apartment building. After a chance meeting at the mailboxes, the two quickly became friends. Soon after, residents reported hearing loud arguments between them about which one was the most obsessive-compulsive.  Zevon died from cancer in his North Kings Road apartment in 2003.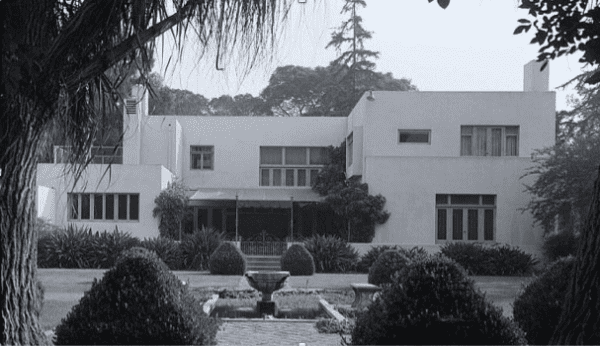 The Irony and the Ecstasy
Many residents are familiar with the story behind the 1970 demolition of the Dodge House, an international-style architectural and technological gem formerly situated on an estate-size lot at 950 N. Kings Rd.
The American Institute of Architects deemed it one of the 15 most architecturally significant houses in the country. Preservationists, though, weren't able to save it after a series of government transactions ineptly placed the house in the hands of developers. Designed by Irving Gill, a master of modern residential design, the Dodge House gave way to a 194-unit condominium development.
But how many realized the irony when, in 1999, the city dedicated a half-acre "pocket park" at 1000 N. Kings Rd. on land that was formerly the garden area of the Dodge House? The architectural fates, it seems, found a way to keep the Dodge House's memory alive. The park's location was initially targeted for a five-story public housing project before residents protested. Their efforts helped create the much-needed park in the heart of one of the most densely populated cities in Los Angeles County.
What Do You Wear to a House Built for Swingers?
Stories have circulated for decades about the Sunday open houses hosted by bohemian Rudolph Schindler and his avant-garde wife Pauline at their Kings Road studio-residence. Vanity Fair says the couple liked to share their "sweetly decadent life" at their house "built for swingers." Musicians, artists and hipsters would invoke the muse, and the evening would flow from there, on one occasion with topless Balinese dancers.
So you might not expect to find America's greatest architect in the middle of these seductive salons. Turns out, though, Frank Lloyd Wright was an early habitué of the Schindler's weekly gatherings, where he occasionally performed on his cello. Wright played six instruments altogether. Schindler was a senior associate in Wright's firm and it was only natural that Wright would visit the Kings Road house.
Wright, in fact, had a substantial influence on the development of North Kings Road. In addition to its famous residents, the street was exemplified also by its significant modernist residential architecture, according to West Hollywood's website.
Wright associates designed at least three houses on the street: the Schindler House at 835; the Dodge House at 950 (Irving Gill, architect), and the Reif House at 906 (Aaron Green, architect). Naturally Wright wanted to check up on the work of his former employees and colleagues.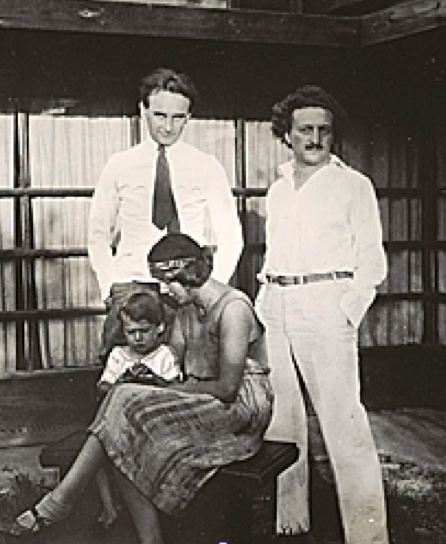 The Two Princes and Four Ghosts of Kings Road
Enough about the past – let's take a look at future news about North Kings Road. Sunset Boulevard, as it turns out, isn't the only Los Angeles-area street that gets theatrical attention.
Coming up in September, the historic Neutra Institute and Museum in Silverlake will host a play about the two legendary architects of modern Los Angeles design, Schindler and Richard Neutra. Called "The Princes of Kings Road," the play is based on true events after the conservative Neutra moved his family into the Kings Road residence, where he and Schindler shared a professional partnership.
What could go wrong? Friends since their college days in Vienna, their personal and business relationships turned into bitter rivalries described in painful detail by a 1999 Vanity Fair article on which the play is based.
It will be the second stage play about the inhabitants of Kings Road. In 2004, Kings Road resident and playwright Jericho Stone presented a reading of his play about a gathering of "Four Ghosts of Kings Road" – former residents Schindler, Dreiser, Huxley and singer-songwriter Zevon. The intimate reading at the Schindler House featured actor Michael York.
These are only a few of the under-publicized but still newsworthy events in North Kings Road's history. The City of West Hollywood has recognized the neighborhood's unique character on its website where more information is available.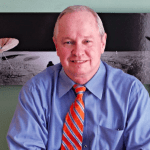 Bob Bishop is a recently retired public relations manager in the aerospace industry who has lived on North Kings Road for more than 20 years. Previously, he was public information officer for the California Manufacturing Technology Consortium, a public-private partnership to improve the quality and productivity of the state's small manufacturers. A  former professional journalist, Bishop was Los Angeles bureau chief for the former Electronic News, a national trade paper for the semiconductor and computer industries.Prior to that, he was a daily newspaper reporter for the Sun-Herald in Gulfport-Biloxi, Miss.