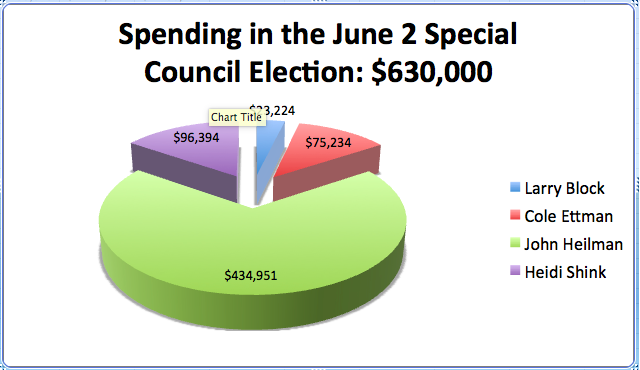 It's not just housing that's expensive in WeHo. The City Council seat that was up for election in June cost John Heilman and his supporters $435,000, almost enough to buy a one-bedroom condo in West Hollywood.
The latest round of campaign expenditure reports recently released by the City Clerk shows a total of $630,000 was spent by the four candidates and two independent expenditure committees in the race to fill the seat vacated by Jeffrey Prang. The reports show total expenditures through June 30.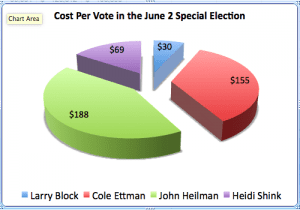 By contrast, contributions in the 2013 City Council election, when two seats were open, totaled $422,000, or $211,000 per seat. That was a major increase from the 2011 election, when an average of $140,000 was spent on each seat.
While Heilman won the June 2 race, Heidi Shink came in second with campaign spending of $96,000. Larry Block came in third, spending $23,000. And Cole Ettman came in fourth, spending $75,000.
The June special election surprised many observers with its 20 percent turnout, equal to the turnout in the March general election. But each of those votes was costly. For example, each of John Heilman's 2,315 votes cost his campaign and the two independent committees backing him $188. Each of Cole Ettman's 486 votes cost $155. Heidi Shink's campaign spent $69 for each of her 1,403 votes, and Larry Block's campaign spent $30 for each of his 763 votes.
The candidates themselves had some skin in the game, with each making a loan to himself or herself. By that measure, Cole Ettman's campaign was the most expensive, costing him personally $103 a vote because of the $50,000 he loaned his campaign. Larry Block's $20,000 loan means he personally spent $26 a vote. Heidi Shink's $24,100 loan means each of her votes cost her $17. John Heilman loaned his campaign $10,100, or $4 a vote.