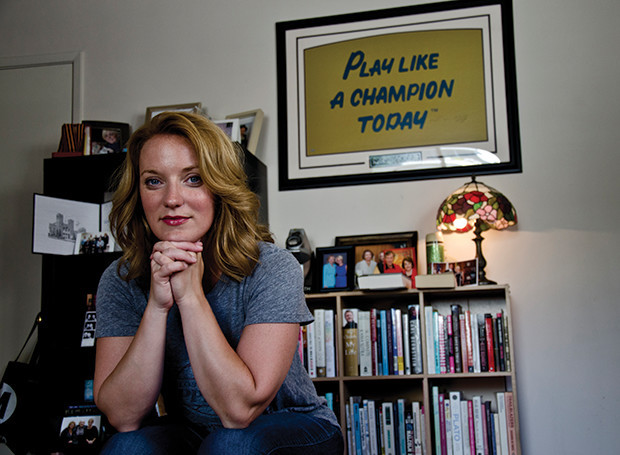 She is a petite blonde who sings in her church choir every Sunday and has a chipper "hello" for everyone she sees on the streets of West Hollywood, whether she knows them or not. She maintains contact during conversations with her bright gray-blue eyes opened wide. She loves leading Sunday walks through different sections of West Hollywood, calling out historic buildings or other sites to the residents who accompany her. And she's only three years older than the city she serves as mayor.
Lindsey P. Horvath was sworn into the position of mayor of West Hollywood in April, shortly after she won election to the City Council in March. Already, her enthusiasm, independence and community outreach, not to mention her intelligence, have surprised some local residents who had judged her to be too young for the Council or too in thrall to more experienced Council members.
But the Lindsey Horvath that people now are seeing is no surprise to those who have known her for years. "She's a spark plug," said producer/director Charlie Ebersol, one of Horvath's closest friends since their college days. "The thing that amazes me about her is that every stereotype you could try to apply to a short blonde who can sing, everything you think she must be, she's the opposite of. She is a paradox wrapped in an enigma in a very attractive package."
"They're very lucky to have her," said Dean Hansell, co-founder of GLAAD, former Los Angeles Police Commissioner and chair of a working group on police oversight for Los Angeles County, who has worked with Horvath often. "She's committed, but she also has a lot of gravitas that extends well beyond the borders of West Hollywood. She is well respected among political leaders and other stakeholders in the state, so she's a great asset to West Hollywood. It's one thing to be an elected official, it's another thing to be an elected official a lot of people respect."
No doubt Horvath's small-town-girl appeal is a result of growing up in Wickliffe, Ohio, a city of 12,600, about a third of the population of West Hollywood. "I think growing up in a small town helped me appreciate what a smaller city can bring," Horvath said.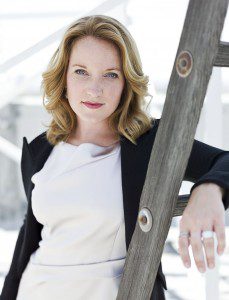 Horvath remains close to her own family—parents Bill and Kathi and younger brother Michael, 28, who practices law in Las Vegas and says he calls his big sister if he needs advice on life or girls.
She also remains close to the church of her childhood. The mayor is a proud Irish Catholic — that "P" in her name stands for Patrice, the patron saint of Ireland. She's been quoted as saying she "got the best parts" of her faith, meaning that her devout upbringing instilled in her a sense of duty to help those less fortunate without biases toward life choices that aren't supported by official Catholicism. Horvath's philosophy is servant leadership—the idea that one's primary focus should be the well being of her communities, putting herself in service to others.
"We're a world that's starving for love and compassion, and if we engage with each other as humans first rather than whatever your roles are in relationship to one another, I think that's really what's going to transform communities and culture," Horvath said.
As safe and warm as Horvath's upbringing was, she faced challenges. Her earliest memory of gender bias dates back to kindergarten in Ohio, where she was one of three children selected for their good grades to attend a computer science fair. The mother of one of the two boys picked for the event contacted the school and suggested that having a girl join the group undermined her son and asked that Horvath be left behind. The request was denied, and the school supported Horvath, who, even at the age of five, could sense there was something "weird" about the contention.
Later she was bullied because she was so good at her schoolwork that she would throw off the curve for the class. She ultimately transitioned to a fast-track school in seventh grade when teachers noticed her teaching herself algebra in the hallway. As her sophomore year approached, she faced having to leave small-town Ohio to relocate to Las Vegas, where her father had been hired by a company that designs and sells electrical products. It was in Las Vegas where she took lessons to hone her smooth-as-silk singing voice, a strong yet elegant soprano evocative of classic musical darling Julie Andrews that echoes through the ornate Church of the Blessed Sacrament on Sunset Boulevard at Mass every Sunday evening.
After high school, Horvath entered the University of Notre Dame with the intention of eventually going to law school to "be Gloria Allred and protect women by being an attorney that fought for their rights." Ironically, Allred was the one who swore in Horvath when she took her City Council seat. "Now I'm friends with Gloria Allred, and it's a little surreal," Horvath said.
It was at Notre Dame that Horvath first raised her sword in the battle for women's rights, an issue that remains important to her In her sophomore year she became involved in an on-campus production of The Vagina Monologues, the noted work of political theatre by Eve Ensler. That almost got her expelled from the prestigious but conservative Catholic university but also garnered her two important friendships.
"It was a very precarious situation because the university did not want the production to happen," Horvath recalled. "They refused to identify us as a student group, so the only way we could have access to be able to reserve the theater space and have the funding to do it was for academic departments to come together as a collective. No one department would do it by themselves, so I had to go to different departments and say, 'If this department does it, will you do it?'"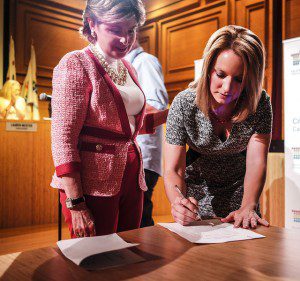 The Theater, Gender Studies, Political Science and English departments, among others, backed the production as an academic program. The student organizers quickly set out to create buzz around campus, but one promotional display, which Horvath proclaims as "brilliant" although she had no part in it, nearly got her kicked out of school.
Several young female organizers of the show had taken red caution-tape style banners emblazoned "RAPE FREE ZONE" and wrapped it around their bodies in a bold and beautiful act of protest.
"I was told they had bathing suits on underneath, but it certainly didn't look that way!" Horvath recalled with a laugh, sitting in her City Hall office with an inches-thick agenda for that evening's City Council meeting. "They ran through the student center and dining halls declaring their bodies a rape-free zone, which is absolutely fantastic as an action, but I certainly got an earful about it!"
Horvath said making apologies to offended department heads taught her how to "navigate bureaucracy" and reminded her that "where there's a will, there's a way." The show went on, and during Horvath's senior year the production became the best-attended non-athletic event on campus.
Through The Vagina Monologues, Lindsey unwittingly impressed the young Charlie Ebersol, who attended the production with mutual friends.
"The first time I ever met her, she was coming out on stage in a black dress and gigantic, fire-engine red boa with a very short beautiful blonde haircut, and she owned this incredible monologue," Ebersol recalled. "I remember thinking, 'Who the hell is this person and how have we not known each other the entire time here?' There are fewer things I like as much as an iconoclast in a stubborn institution. That moment is burned into my memory and will be for rest of life."
Another important connection Horvath made was Susan C. Swan, executive director of V-Day, a global activist movement to end violence against women and girls. It was through Swan that Horvath became the Los Angeles global coordinator for One Billion Rising, a program in which events are held simultaneously in over 200 countries in February to raise awareness about violence against women and girls and unite communities to end it.
"From the first time I spoke with her, it was clear not only that she is a true activist, but that she is committed to ending violence against women and girls using her strong voice and working with the community," Swan said. "You saw that she had not only passion, but also the creativity that made her activist work a true success."
In one sense, Horvath was born into the women's rights movement. Her birthday, June 30, 1982, was the day the Equal Rights Amendment fell three states short of ratification. As activist Torie Osborn puts it: "This woman is God's revenge on anyone who wants to repress equal rights."
Horvath is most inspired by the feminists who preceded her, those of the '60s, '70s and early '80s who introduced radical ideas like women-only communities and islands of lesbians—ideas that exposed people to different perspectives on the world. "I wish I could have been a part of that sense of community that existed," Horvath said. "I struggle with the movement today because very often I see people using social spaces, especially social media, to sort of take down something they don't see as 'feminist enough', whatever that means."
"Everybody needs to feel comfortable in their expression of their identity and what it is they believe and what their values are, but I'm also hoping that the women's movement can find things to organize and rally around and come together rather than taking down people who try to express a sentiment that is intended to move women forward."
It didn't take long after graduating from Notre Dame for Horvath to decide to move to Los Angeles. It was 2004, and she had been home in Las Vegas about a month after graduation when she asked her father to drive her to the City of Angels to find an apartment and look for a job. Her plan was to burnish her vocal talents studying musical theater before attending law school at UCLA. But Horvath was practical. As they drove into Los Angeles, her father recalls she asked him to stop at a few restaurants so she could apply for a job during their apartment hunt. Horvath was soon employed and moved into her first apartment on Wilcox Avenue near Hollywood Boulevard.
That year she entered the entertainment marketing industry with a company called Creative Domain. Her boss let her buy a ticket to the Women in Entertainment Awards, where Horvath met the executive director of the National Organization for Women. NOW's director encouraged Horvath, then 22 years old, to establish the NOW Hollywood branch, which she served as president. When then-Mayor of West Hollywood Abbe Land agreed to be a narrator in a Vagina Monologues production for V-Day, Horvath knew she was meant to live in West Hollywood.
In addition to heading the Hollywood NOW branch and serving on the Glendale board of the YWCA, Horvath logged in 18-hour days in advertising, transitioning from Creative Domain to Crew Creative to a company called BPG, where, at the age of 25, she served as vice president. She then transitioned to Canyon Design Group, where she started a theatrical division. By 2010, her career led her to a creative advertising agency based in Venice called Cold Open.
During her last few years at Cold Open, Horvath, a senior account executive, was assigned an account coordinator named Rachel Hodges, a 21-year-old fresh out of USC with zero graphic design or advertising experience. Horvath's guidance had a major impact on Hodges, empowering her with the knowledge to become an account executive. "She's brilliant, and she was a pro at her job," said Hodges, now 25 and still thriving in the industry she learned from Horvath. "She made it look like second nature. I always strive to be just like her. I get excited to tell people she used to be my boss, that she made me who I am today in my career, and she's my mentor and my friend."
Horvath's hard work in advertising and women's rights paid off, in action as well as in personal connections. Those connections included relationships with the five members of the 2009 West Hollywood City Council. In April 2009, Councilmember Sal Guarriello, 90, died two years into his four-year term. Less than a month later, the remaining Council members—Abbe Land, John Duran, John Heilman and Jeffrey Prang—unanimously voted to fill Guarriello's seat with the 26-year-old activist.
A press release from the city announcing the appointment illustrated the breadth of Horvath's local involvements at the time of her appointment: "She is the current President of the National Organization for Women, Hollywood Chapter; President of the National Women's Political Caucus, NWPC-LA Westside; Chair of the City of West Hollywood's Women's Advisory Board; Board Member of the West Hollywood Democratic Club; Board Member of the Women's Reproductive Rights Assistance Project; a member of Planned Parenthood; a member of Human Rights Watch; a member of Amnesty International, and a member of the Human Rights Campaign. She has also been involved on the Steering Committee for the West Hollywood Women's Leadership Conference and the West Hollywood Plan B Access Committee, as well as the Producer of V-Day & Until the Violence Stops Festival, a Co-Founder of OBJECT: It's How You Say It and a community partner for the Equality for All Campaign."
But despite those achievements, the fact that the Council appointed Horvath rather than holding a special election upset many people. Horvath, a firm supporter of efforts to increase voter turnout, understands why the public was frustrated about not being offered an opportunity for input on her appointment. But she chose to take the opportunity for public service, even though many said she lacked experience in politics and in West Hollywood, where she had been living for only 18 months.
Horvath's abbreviated first term on council—from 2009 to 2011—was highlighted by a number of successes. She continued an effort she'd started before her Council appointment to secure funding to test DNA on a severe backlog of over 5,000 untested rape kits. For that project, she worked with a coalition of organizations and people including the Los Angeles Sheriff's Department and L.A. City Councilmembers Eric Garcetti and Wendy Gruel to get funding for DNA testing included in the Los Angeles City Budget. She created the West Hollywood Community Response Team to Domestic Violence, a multi-agency effort to thwart domestic violence that included a team of experts on same-sex and transgender couples, teens, seniors and Russian-speaking residents. She worked with Abbe Land to promote bicycle use for transportation in West Hollywood through the Bicycle Task Force, and she initiated a recycling program for compact fluorescent light bulbs.
Horvath also began a long-standing collaboration and friendship with Barbara Meltzer, a West Hollywood resident since 1977, who serves on the city's Human Services Commission as well as being the L.A. County Commissioner for Older Adults. Ensuring that senior citizens have a voice in the community and making aging-in-place possible are among Horvath's top priorities, motivated by her relationships with her grandparents and an understanding of the elderly that Meltzer attributes to Horvath's having "an old soul."
"Lindsey is amazing in that she can handle the problems that are happening right now, but also look forward to the future," Meltzer said of Horvath's involvement in supporting aging-in-place efforts for older residents in West Hollywood, where a quarter of the city's residents are aged 55 and older. "It's a gift, not everybody can do that. Nothing seems to rattle her, she just takes care of business."
Despite her achievements on the Council, Horvath lost her 2011 election bid. She continued to be plagued by mistrust from some residents who still considered her inexperienced and saw her as an extension of the same long-tenured Council members who appointed her. She lost the election to challenger John D'Amico, who today serves alongside Horvath on the Council.
After losing the 2011 Council election, Horvath continued her steady stream of civic and social activism that unfurled alongside successful work with Cold Open and NationBuilder, an online community organizing platform that ultimately led her to launch her own independent entertainment marketing company, LPH, in 2014.
Horvath also stayed active in civic affairs, serving on the L.A. Unified School District Redistricting Commission, advocating for senior citizens on the board of Services & Advocacy for GLBT Elders (SAGE), and serving for four years as a city transportation commissioner, a role in which she worked to advance the West Hollywood Bicycle Task Force and reduce traffic and parking problems. She also was active in at least a dozen other organizations, including Women Against Gun Violence, the Stonewall Democratic Club and Running Start.
"I think it's a great testament to her that politics has its ups and downs, and when she was first on Council and it didn't all go her way, she didn't go away," said L.A City Controller Ron Galperin. "She stayed as active as ever before, she stayed as committed as ever before to the issues that she cared about, and people saw that and respected that."
During her time off the Council, Horvath took the time to get a true local's knowledge of West Hollywood. She now recommends the cauliflower steak at Cavatina at the Sunset Marquis, praises Le Pain Quotidien on Melrose for serving "a perfect coffee," and she's reached a point where she simply couldn't live without the cherry vereniki at Voda Spa. She laments the impending loss of the House of Blues on Sunset (waving goodbye to the chance of her dream concert of Colbie Caillat, Corinne Bailey Rae and Ingrid Michaelson at her favorite live music venue). She looks forward to cocktails at her favorite haunts like Pearl's and Bar Lubitsch and nights of dancing like nobody's watching (she hopes) at The Abbey.
Horvath has also surrounded herself with mementos of her life as an activist, which fill her apartment on Sweetzer Avenue just north of Melrose. Her bookshelf is adorned with medals from groups like the Russian Veterans, the Honorable Order of the Kentucky Colonels and the Veteran Feminists of America. There are framed photos of veterans she's helped, her old pastor and her nearly two-year-old godson, and countless strips of quick photo booth snaps. Two of the larger items on display are a star machine that recreates constellations on the ceiling to self-proclaimed "star geek" Horvath's delight, and a bullhorn her NOW comrades decorated with a hefty amount of glitter, its sparkly green background supporting a pink cursive "L."
In a move straight out of the Leslie Knope of Parks & Recreation handbook, Horvath has photos of the politicians she admires clearly visible around her apartment. There's a photo of Horvath with Nancy Pelosi, next to a propped-up Christmas card Horvath received from Senator Dianne Feinstein along with a copy of the pivotal CIA Torture Report. Horvath's preferred 2016 Presidential candidate, Hillary Clinton, is featured several times—a framed photo of Horvath with Clinton, entry passes to Clinton's speaking engagements that Horvath attended and a signed copy of Clinton's book Hard Choices. When Clinton signed that book, Horvath told her that they'd met before and that she was a former member of the West Hollywood City Council. "You know, you better run again!" Horvath told Clinton, who had not yet announced her candidacy in the 2016 race for president. The former Secretary of State smiled and yelled back, "You better do the same!"
As the West Hollywood City Council prepared for its most radical transition in a decade, with four of five seats open in the March 2015 general election and the June special election, Horvath decided she would do just that. Her mother, Kathi, flew to West Hollywood to campaign alongside her daughter, visiting constituents door-to-door. Horvath's apartment became the hub of her campaign, with long tables filling her normally airy living room and volunteers seated at any available spot where they could work to drum up support for their candidate. Her campaign manager was Horvath's friend and fellow young Democrat Estevan Montemayor, whom she had met through the Stonewall Democrats.
"I got to see Lindsey's commitment to community and the people of this city," Montemayor said. "I too am a resident of West Hollywood, and Lindsey's love for these people is undeniable."
On March 3, the votes started rolling in. Incumbent John D'Amico retained his seat on the Council. Horvath took the third seat, coming in less than five votes below fellow challenger Lauren Meister and edging out John Heilman, who had been on the Council for thirty years. On April 20, with incumbent John Duran passing on the rotating appointment as mayor, Horvath was sworn into that position by Los Angeles Mayor Eric Garcetti.
As exhilarated as Horvath is about opportunities for civic change before her, she's also aware that her seat on the council for more than one term is far from guaranteed. When a staff member asked Horvath how she planned to use her twelve years on the Council now that members are limited to three terms of four years each, she replied: "I'll be lucky if I have anything past four."
"I don't say that for any other reason than: I've lost. I know what it means to have this opportunity and then have it taken away from you," Horvath said. "My job is to make sure I am the best public servant I can be for the next four years. I'm not thinking about four years and four years and four years. I am aware that this opportunity is not forever, and so I absolutely do not take it for granted and I want to make the best of it."
On July 29, Horvath celebrated her first 100 days as the Mayor of West Hollywood. She had already taken three major actions on her first day as mayor: she created the 21st Century Leaders Task Force to advise the Mayor's office on issues affecting West Hollywood's young people She put her goal of comprehensive ethics reform into action with the creation of an Ethics Task Force. And she formally commemorated the 100th anniversary of the Armenian genocide.
She also led a successful effort for elimination of a controversial City Council deputy system that had been in place for thirty years and that many thought couldn't be removed, despite its scandals.
But without a doubt the biggest day of Horvath's first 100 was June 26, the day "marriage equality became the law of the land," a phrase Horvath can't say enough. She seemed to overflow with joy when she said it even a month later. Horvath stood in front of a sea of revelers in West Hollywood Park that day and declared June 26 to be Equality Day The scene gave her mother Kathi pause as she saw her daughter, four days shy of her 33rd birthday, captivate a park full of people with her voice and a message of love and equality. It's a day Horvath, her family, and every resident of West Hollywood will not soon, if ever, forget.
"When people say 'Where were you [on June 26, 2015]?' I can say I was the mayor of West Hollywood that day," Horvath said, making a clear effort to not get choked up at the thought. "There are not words for the magnitude of that opportunity."

This story was originally published in the September issue of West Hollywood Magazine, a publication focused on art, architecture, design, fashion, style and personalities in West Hollywood, for which distribution began on Thursday last week. A digital image of the print publication can be found here: http://issuu.com/wh-mag/docs/west-hollywood-magazine-sept-oct-20. Copies of the magazine can be purchased online or found beginning Thursday at various locations listed on WestHollywoodMag.net.