The West Hollywood Planning Commission on Thursday will consider whether to approve a controversial five-story project on Norton Avenue that will replace 21 rent stabilized housing units with 34 units, five for low- and moderate-income people and 29 that will be sold as condominiums.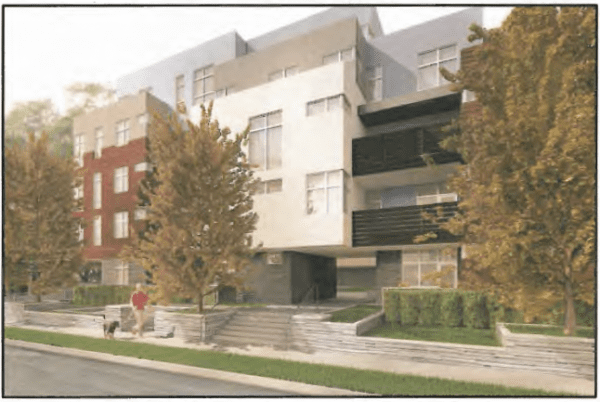 The project, developed by Craig Berberian's Empire Property Group, was approved by the Commission's Urban Design Subcommittee with the proviso that changes be made to make it appear less bulky. It would sit on three lots one occupied by two one-story structures with a total of six apartments, another with a one-story structure with a one-story and a two-story building with a total of seven apartments and the third lot with a two-story building with eight apartments. Rent increases for all 21 apartments are governed by the city's rent stabilization law. The property is at 8017-8029 Norton, a block north of Santa Monica Boulevard.
In 2008 the City Council granted an appeal by local residents to reject a plan to replace 13 apartments on two lots at 8017-8023 Norton with a 16-unit condominium building. Council members argued that the design was mediocre and did not provide adequate parking. The current project includes 61 parking spaces, three more than the 58 required for a building of its size under city law.
In a petition signed by 30 residents and at a meeting in May at which the project was presented by the developer, neighbors objected to the size of the building. The building crosses two different zoning areas, one of which permits a building of no more than three stories and the other of which permits a four-story building. Because it is offering housing for low- and moderate-income people, Empire is asking for permission to add one more story to each side of the building, making it a combination of four and five stories.
In their petition to the city, opponents of the project argued that it would be out of character with the neighborhood. "Norton Avenue is made up of I story bungalows, some of which can be considered historic, as well as small 2 story apartment complexes," the petition says. "The proposed … condominium complex … completely out of proportion to ALL of the buildings in the area, TOWERING over them by at least 3 stories. lt is one MAMMOTH strncture spanning three lots, and does not fit in with the California Courtyard style that is prevalent throughout the neighborhood.
"It is removing 21 UNITS OF AFFORDABLE HOUSING for working, middle class, West Hollywood residents and replacing it with 5 affordable housing units- FOR A NET LOSS OF 16 AFFORDABLE UNITS FOR WEST HOLLYWOOD RESIDENTS," the petition says.
The commission's hearing will be the latest in a series of meetings before it and the City Council at which residents and political figures have debated the impact of denser development on the quality of life in West Hollywood. Supports of more development have pointed to its economic benefit to the city and to the fact that building more housing is likely to lower housing costs over time. Opponents contest the impact of more housing on housing costs, citing relatively high rents at several new apartment buildings. They also object that such buildings might harm their quality of life by creating more traffic and making parking more difficult to find.
The commission also will consider on Thursday a proposal to demolish a single-family rental unit and a four unit-apartment building at 948-950 San Vicente Blvd. and an eight-unit apartment building at 954 San Vicente Blvd and replace them with a four-story, 18-unit apartment building over a subterranean parking garage. The building would include three on-site units for low- and moderate-income people.
The commission will meet at 6:30 p.m. Thursday at the City Council Chambers, 625 N. San Vicente Blvd. south of Santa Monica.