In a message sure to please motorists but that will possibly disappoint fans of drag celebrities Willam and Bianca del Rio, the City of West Hollywood today announced that all of La Cienege Boulevard is open to traffic.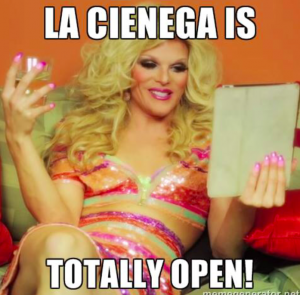 La Cienega between Fountain Avenue and Sunset Boulevard has been closed for the last four weeks to allow for roadwork that is part of the Sunset La Cienega hotel and retail project.
The city announced the closing with standard measures that included illuminated signs and mailings. But it took another step to reach more of West Hollywood's diverse population with a video series announcing the closure and suggesting alternatives.
"The WeHoans," a takeoff on Saturday Night Live's popular "Californians," starred Willam and Bianca del Rio, among others, in three episodes of hilarious conversations about how to get around West Hollywood. The series attracted a huge YouTube following and national press coverage.
But now it's back to normal in West Hollywood (according to how you define normal)