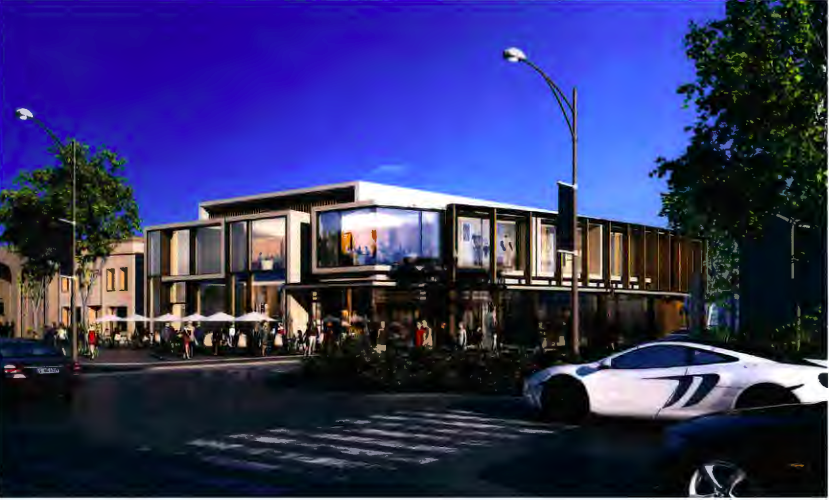 BMB Investments is taking to the WeHo City Council next week a revised proposal for a two-story building on Melrose Avenue at Norwich whose earlier plan was rejected by the city's Planning Commission.
The building, intended to house shops and offices, would contain 18,571 square feet, two-thirds of which would be dedicated to retail uses. It would have 34 parking spaces in a subterranean garage.
The Planning Commission in 2011 approved a one-story building with 9,656 square feet for the site at 8650 Melrose Ave. It also agreed to let BMB reduce the number of parking spaces by half, reasoning that there are additional spaces nearby in a city parking structure on San Vicente Boulevard.
But in August 2013, BMB asked the city to include the 8650 Melrose property in the Avenues overlay zone, which had been created the year before. By adding that lot to the overlay zone, which is intended to encompass the West Hollywood Design District, the city would let the builder take advantage of exceptions to the existing zoning ordinance so that it could add a second story to the building and increase its size in proportion to the size of its lot.
The Planning Commission rejected BMB's request at a public hearing where people in the residential neighborhood behind the site complained about its impact on traffic in their neighborhood and the impact of the building on the neighborhood's character. The Planning Commission found the project as designed didn't fit the character of Melrose Avenue, protruded inappropriately into the residential neighborhood behind it and didn't have adequate parking.
The revised plan that will go before the City Council on Monday eliminates a proposed restaurant, reducing the need for parking by 17 spaces, which BMB had proposed to provide by using parking spaces at the nearby Restoration Hardware building. The new plan also includes a roof over the driveway behind the building and changed the south- and west-facing walls to green walls to soften their visual impact on the houses nearby. The city's Community Development Department has recommended the Council approve the project
Finally, BMB will include a previously approved public gathering space on the corner of Melrose Avenue and Norwich Drive, which the city values at $200,000.
The City Council will meet at 6:30 p.m. Monday at the City Council Chambers, 625 N. San Vicente Blvd. south of Santa Monica. Free parking is available in the five-story parking structure on El Tovar Place with a ticket validated at the Council Chambers.