Will you lose your mail, your bank account or your life?
If you live in an apartment or condo building in or near West Hollywood where a thief has a U.S. Postal Service key to the front door, you should be worrying about all of those possibilities.
In recent months there has been an apparent rash of mailbox thefts from West Hollywood condo and apartment buildings. We say "apparent" because neither the U.S. Postal Inspection Service or the West Hollywood Sheriff's Station will tell us how many such thefts have taken place or where they occurred. Their rationale? Identifying the location of buildings that have been entered by mailbox thieves might compromise the investigation. Our response: Don't the thieves already know the addresses of the buildings they have entered? And shouldn't the residents of those buildings know the risks they are facing?
Through email and calls from its readers and online postings, WEHOville has been able to identify a few of the buildings in or near West Hollywood where break-ins reportedly have occurred (and we suspect there are many more):
— 851 San Vicente Blvd. (Desmond Condos)
— 906 N. Doheny Dr. (See video above)
— 1539 N. Laurel Ave.
— 8530 Holloway Dr.
— 1203 N. Sweetzer Ave.
— 7949 Selma Ave.
— 7941 Selma Ave.
— 8440 DeLongpre Ave.
— 1010 N. Kings Rd.
— 855 N. Croft Ave.
So what can you do? A recent press release from the City of West Hollywood warns residents to collect their mail promptly to reduce the likelihood that it will be stolen by someone who has the Post Office "master key" to your building's front door. What it doesn't note is that you have more than your mail to worry about. Bank statements, tax documents, Social Security letters — documents like these might provide a really smart thief with the information he or she needs to hack your bank account.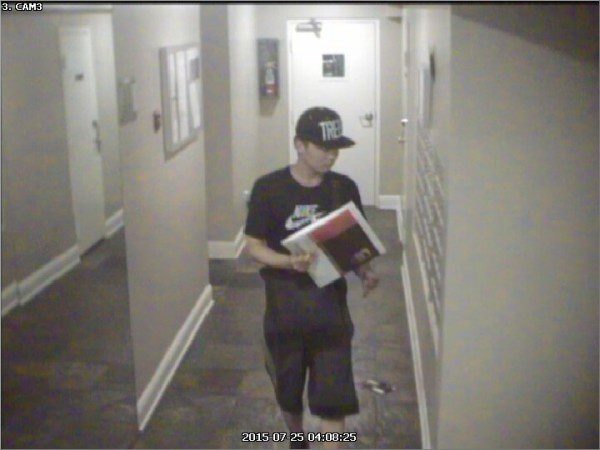 But your mail and your money are less valuable than your life. Apartment and condo buildings have locks on their front doors to prevent unwelcome people (i.e. criminals) from entering them. And the unwelcome criminals who are stealing your mail have a Post Office "master key" that allows them to unlock the door of your building's lobby as well as your mailboxes. So in addition to picking up your mail early, we would suggest you don't respond to a late night knock on your apartment door without looking through the peephole to see who is standing in the hall outside. Or ask your landlord to install an elevator lock if you don't already have one.
We also suggest you contact the legislators whose districts cover West Hollywood and push them to make the Postal Service fix this problem. The only solution is to replace all of the locks in West Hollywood buildings that can be opened by missing master keys, a solution the U.S. Postal Service has been reluctant to implement in similar situations around the country until it was pressed to do so by federal legislators. And the local Post Offices must strictly enforce an apparently neglected policy under which postal workers are required to sign in for master keys before beginning a route and sign out when they return them. It's clear from the thefts taking place that incompetence at our local  Post Office stations is why your mail, your bank account and possibly your life are now at risk.
Here's who you should reach out to demand the Postal Service fix this problem:
— U.S. Rep. Adam Schiff, 28th Congressional District. 2411 Rayburn House Office Bldg., Washington, D.C. 20515. Telephone: (202) 225-4174. Unfortunately members of the U.S. House of Representatives, even though it is 2015, will not provide email addresses.  So the only way to send a message to Schiff is cumbersome.  Go to his website's contact page — http://schiff.house.gov/contact — there you will find a form to fill out.
— U.S. Sen. Barbara Boxer, 112 Hart Senate Office Building, Washington, D.C. Telephone: (202) 224-3553. Email: Senator@boxer.senate.gov.
— U.S. Sen. Diane Feinstein, 331 Hart Senate Office Building, Washington, D.C. Telephone: (202) 224-3841. Email: Senator@feinstein.senate.gov.
And please help WEHOville chronicle these thefts by sending information about them to Henry@WEHOville.com or calling (323) 454-7707 (at any time, on any day).