L.A. County Sheriff's Capt. Gary Honings, head of the West Hollywood Sheriff's station, is retiring.
Honings announced the retirement to members of his staff recently. He was named commander of the station in March 2013.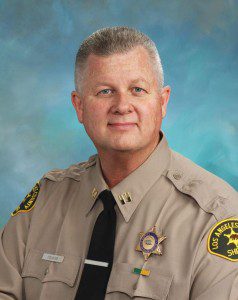 Honings had extensive experience in West Hollywood before being named to head the station. He served for five years in West Hollywood as the operations lieutenant under both Capt. Buddy Goldman and Capt. Kelley Fraser, who he replaced.
Honings also served as acting captain at the West Hollywood station in 2010 during the time between Goldman's departure and Fraser's arrival. And he served as operations sergeant at the West Hollywood station under former captains Richard Odenthal, Lynda Castro and David Long.
In 2012, Honings left the West Hollywood station to become executive aide to Chief James Lopez, who headed the department's Field Operations Region II, which oversees eight municipal sheriff's stations, including the West Hollywood Station. Honings, who has been with the Sheriff's Department since 1984,
Honings is on vacation and could not be reached for comment on his departure. It is unclear when he will leave the position, although it might be as early as next month.
The L.A. County Sheriff's Department typically puts together a list of qualified candidates for the station captain's position. Those candidates are then vetted by the City Council and city manager.
Honings's bio notes that he served in the U.S. Air Force, California Air National Guard, for 25 years as a chief aircrew member aboard C-130 Hercules aircraft. He visited more than 57 different countries around the world and served one tour in Kuwait and one tour in Iraq before retiring at the rank of Master Sergeant.
Honings holds an Associate of Arts Degree in Airfield Management and is in a bachelor's degree program at American Military University. He has two grown sons: one who is an artist and in management, the other of who is an intelligence analyst in the United States Army.