Gov. Jerry Brown today signed two bills that will allow the City of West Hollywood to use $15 million in redevelopment agency money that the state had demanded be relinquished to help solve California's debt problems.
The bills, SB 107 and AB 2, "will give local governments more economic development tools to help improve struggling communities," the Brown administration said in a press release today. "SB 107 and AB 2 will help cities and counties streamline efforts to enhance affordable housing in areas that need it the most."
"These important new measures enacted today will help boost economic development in some of our most disadvantaged and deserving communities," said Gov. Brown. "California owes a debt of gratitude to Speaker Toni Atkins for her leadership on these issues over the years. Without her tireless efforts, these bills would never have passed."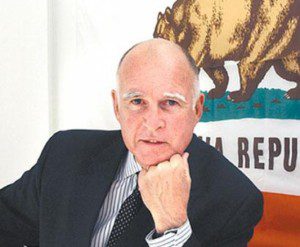 SB 107 by the Committee on Budget and Fiscal Review includes provisions that will streamline the current redevelopment agency dissolution process, enhance affordable housing by providing increased statewide funding and improving transparency and expand the type of loans for which cities and counties can seek reimbursement.
"This is an important bill that helps local governments wind down the process of dissolving their redevelopment agencies, and, as that happens, communities across California will be able to access new tools to promote economic development and create jobs," Assembly Speaker Atkins said. "I am proud to have worked with Governor Brown and his team to negotiate the changes that allowed this compromise agreement to move forward. And I am delighted that by enacting this legislation, we are helping reinvest badly needed resources to create affordable housing."
AB 2 by Assemblymember Luis Alejo (D-Watsonville) allows specified disadvantaged areas of California to create a new entity called a Community Revitalization Investment Authority (CIRA). The CIRA would utilize property taxes and other available funding to improve employment opportunities, reduce crime, clean up hazardous waste sites and promote affordable housing.
"Today, we celebrate a major victory for our state's most disadvantaged communities with the Governor's signature of Assembly Bill 2," said Alejo. "For three years I have work diligently with the Governor's office and Assembly leadership to create policy that will serve as a new effective tool to help and uplift disadvantaged communities throughout the state. I want to thank the Governor for his leadership and thoughtful consideration on redevelopment. This is the right thing for jobs, economic development and affordable housing in California."
The legislature's passage of the bill came after extensive negotiation with Gov. Brown's office, which gave its supporters confidence that Brown would sign it. Last year Brown vetoed a bill proposed by Assemblymember Richard Bloom that would have returned redevelopment agency money to local cities and asked the state Department of Finance and his staff to work with the legislature to resolve problems he saw with it.
The $15 million that West Hollywood would receive includes $5.65 million for affordable housing and $9.25 million for improvements to Plummer Park. The state also has agreed to relinquish to the city a parking lot on Santa Monica Boulevard and Spaulding valued at $2.5 million that had been owned by the redevelopment agency.
Redevelopment agencies were established to help local governments secure funding for projects. By declaring an area suitable for redevelopment, the share of property tax revenue that went to schools and other local agencies in the area was frozen and increases in that revenue were diverted to the local redevelopment agency. West Hollywood had hoped to use $14 million in redevelopment agency funds to finance major renovations to Plummer Park along with $27 million the agency netted in issuing bonds in March 2011. The state's decision in 2011 to freeze the redevelopment agencies also resulted in a ban on West Hollywood's use of those bond revenues.
City Manager Paul Arevalo and Mayor Lindsey Horvath have said they will engage the community in planning how to use the money for renovations of Plummer Park. One of the most controversial elements of a previous plan was the demolition of Great Hall/Long Hall, the buildings in the center of the park built during the Great Depression by the Works Progress Administration.
Arevalo said use of the money set aside for housing will be determined by the projects presented to or developed by the city. The city has a partnership with the West Hollywood Community Housing Corp., which has been in a tight financial situation, and has moved money from its general fund to help the WHCHC. Arevalo said some of the redevelopment agency housing money can be used to repay the general fund for those allocations.