After a rash of apartment and condo building break-ins and mailbox thefts in Los Angeles, the U.S. Postal Service has begun replacing the master locks to those buildings and mailboxes.
Richard Maher, a spokesperson for the Postal Service, emailed WEHOville today to announce the replacement program. "With the tens of thousands of locks in service, this will be a huge undertaking and will be done in phases," Maher said. "Working with the U.S. Postal Inspection Service, areas for lock replacement will be targeted based upon recent incidents of theft and vandalism."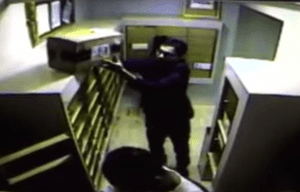 Given that West Hollywood in recent months has suffered a number of such incidents, it may be among the areas that the Postal Service focuses on first. A WEHOville reader who lives outside of West Hollywood reported that a representative of the Postal Service said master locks were going to be replaced soon in buildings in the 90046 ZIP zone. That zone covers West Hollywood's Center City and Eastside areas and extends into the Hollywood Hills.
The mailbox thefts are being carried out by people who either possess a mailbox master key or have a counterfeit master key. Those keys allow a mail delivery worker to gain access to an apartment or condo building and also to open the panel that covers the mailboxes in the building. Videos by apartment building security cameras have captured several instances where people have entered buildings in West Hollywood and stolen their mail.
The keys to the master locks are supposed to be tightly secured by the local Post Office. A mail carrier is supposed to sign out for a key before he or she begins a route and keep the key fastened to his or her body. The carrier is supposed to return the key to a lock box at the end of the route. While Maher's message to WEHOville described the keys used to break into buildings as "counterfeit," there also have been allegations that actual Post Office keys are being used.
It is unclear how many buildings have been broken into in West Hollywood. Both the Postal Service and the West Hollywood Sheriff's Station refuse to disclose that information or the addresses of the buildings. They claim such information will compromise their investigation. However residents of supposedly secure buildings whose front doors can be opened by burglars face not only the theft of their mail but possible break-ins into their apartments — issues they can't address if they don't know they are vulnerable.
The office of U.S. Rep. Adam Schiff, whose district includes West Hollywood, has contacted the U.S. Postal Service about the matter.  "Our office has been in contact with the Postal Inspector this year about this very issue after being contacted by some affected constituents, and are following up with them on this most recent report," said Patrick Boland, Schiff's communications director.
WEHOville has asked local residents to communicate information about break-ins, including the addresses, which it will post online to inform residents of vulnerable buildings of the risks. Since Sunday residents have given WEHOville the addresses of 10 buildings where they say such break-ins have occurred.