CORRECTION:  An earlier version of this story said that Micky's would be closed through all of October, including Halloween.  In fact, Micky's will be closed for 30 days beginning Oct. 1 and will be open for Halloween on Oct. 31.  The story has been changed to correct the error.
Micky's, one of West Hollywood's most popular gay bars, will be closed by the state Board of Alcoholic Beverage Control (ABC) for the 30 days beginning  Oct. 1.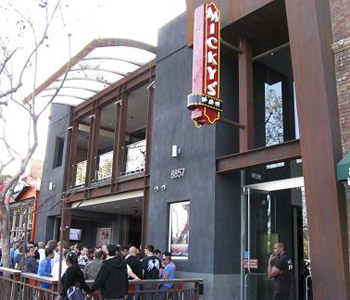 The closing is a penalty levied by the ABC board against Micky's after an investigation in 2013 of charges of lewd conduct and giving away alcoholic beverages for free. The lewd conduct charges had to do with alleged contact between bar patrons and Micky's go-go dancers, as well as go-go dancer "over-exposure."
The closing extends until just before Halloween, when West Hollywood's Carnaval attracts hundreds of thousands of people to the gay nightlife district on Santa Monica Boulevard where Micky's is located. Owners of nearby businesses have expressed concern about the impact of the closing on them because Micky's draws a large audience that also wanders in and out of other local bars and restaurants and shops.
Michael Niemeyer, the owner of Micky's, said he was concerned about the impact of the one-month closing on Micky's 50 employees. "The main reason I fought it," Niemeyer said of the ABC charges, "was there were 50 people caught in the crossfire."
"We are making attempts to mitigate the impact of this on our employees," he said.
Niemeyer said WHBT Inc., his company and the owner of Micky's, is in good financial shape and that Micky's will be back in business in November.
The ABC investigation of Micky's in 2013 and its decision in December of that year to close Here Lounge for a month on similar charges sparked outrage in West Hollywood's gay community. Many people argued that the laws the ABC board was enforcing were out of date, noting for some were enacted more than four decades ago and don't reflect the mores of today.
Niemeyer has owned Micky's since 1988. It is believed to be the second liquor-licensed establishment after Prohibition and started becoming a gay hangout in the Fifties. Micky's was closed for almost two years after an electrical fire in 2007.