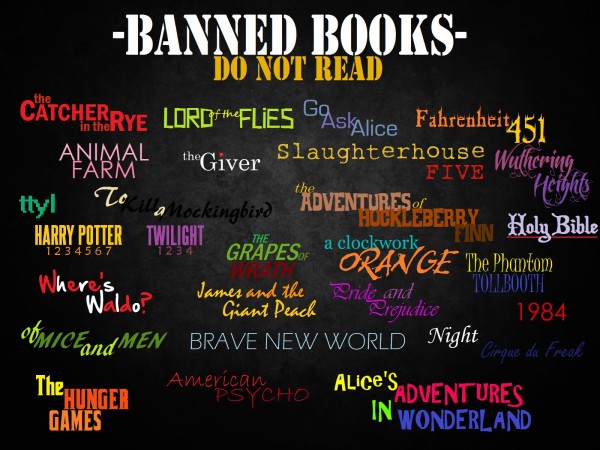 In celebration of September as National Literacy Month and in honor of Banned Books Week, which takes place during the last week of this month, the City of West will host a full day of literary and artistic events tomorrow related to banned books and censorship.
"WeHo Reads: Banned Books" will take place on Saturday, 11 a.m. to 6:30 p.m. at the City Council Chambers, 625 N. San Vicente Blvd. south of Santa Monica. Following the daytime events, at 6:30 p.m. there will be a screening of "The Perks of Being a Wallflower." The film was written and directed by Stephen Chbosky, who will be featured at 5:15 p.m. in a conversation with young-adult author Cecil Castellucci. Admission to "WeHo Reads: Banned Books" is free and events are open to the public.
It is hard to imagine, but it is a simple truth — beloved books such as "The Adventures of Huckleberry Finn", "The Hunger Games," "To Kill a Mockingbird," "The Perks of Being a Wallflower" and "Of Mice and Men" have all been banned or challenged at some point over the years. "WeHo Reads: Banned Books" will feature talks and panels with authors, many of whom have had their works banned or challenged. These conversations will focus on the underlying reasons books are banned and challenged: for addressing socially controversial themes such as race, religion, gender and sexuality, among other topics.
"WeHo Reads: Banned Books" will kick-off with a unique literary activity for children. Actors including Pam Dawber ("Mork and Mindy," "My Sister Sam"), Colin Egglesfield ("All My Children," "Melrose Place"), and Vanessa Marano ("Switched at Birth") will read from banned children's books. Then, a program of talks and panels will begin. Throughout the day, performance art, queer sticker-making workshops and other art activities will take place.
Participating authors will include Stephen Chbosky (The Perks of Being a Wallflower), Luis J. Rodriguez (City of Los Angeles Poet Laureate and author of Always Running), Cynthia Bond (Ruby – 2015 Oprah 2.0 selection), Francesca Lia Block (Weetzie Bat), Ron Koertge (Backyard Witch), and Amy Uyematsu (The Yellow Door), among others. In addition, West Hollywood City Poet Steven Reigns and members of the West Hollywood City Council will discuss their personal selections of favorite banned books.
Highlights of "WeHo Reads: Banned Books" are:
Storytime — This interactive performance art piece by Artist Dani Dodge will transport participants to the fictional "Fitzgerald-Orwell Memorial Library" where they will be asked to transform sentences from banned books and add them to a larger story, which will be read at "Storytimes" at 2:45 p.m. and 4:45 p.m.
On Body & Banning: Honoring Kathy Acker and Questioning Sexual and Racial Borders of Censorship — This panel discussion, co-convened by Les Figues Press, will be moderated by Margaret Rhee and will feature Ron Athey, Raquel Gutiérrez, and Michael Du Plessis, who will discuss the politics of banned books by examining the representations and practices of queer sex and body in literature and performance.
Don't E-Race Me: Writing About Race(ism), Culture, and Identity in Fiction and Poetry — This conversation will be moderated by Jervey Tervalon and will feature Cynthia Bond, Nina Revoyr and Luis J. Rodriguez, who will discuss the scores of books that have been banned as a result of exploring racial themes or depicting racism directed at various groups of people.
"WeHo Reads: Banned Books" is produced by the City of West Hollywood and the West Hollywood Library with the support of Red Hen Press, Les Figues Press, PEN Center USA, Book Soup and LA As Subject.
More information, including a complete up-to-date schedule of events, is available online www.weho.org/wehoreads or on Facebook.