Last night's West Hollywood Planning Commission meeting was a love fest.
Homeowners on North Kings Road wore buttons proclaiming "Go 826" to proclaim their support for the 826 N. Kings Rd. project now that the developer has agreed to lower the height of the proposed building from five to four stories and to eliminate housing there for low- and moderate-income people. Members of the Planning Commission said they were thrilled that the developer and the homeowners who had opposed the project had worked out a compromise that made everyone happy. Indeed the evening was cause for celebration for everyone except that one group that didn't make the meeting — those people who are finding it difficult, if not impossible, to afford to live in West Hollywood.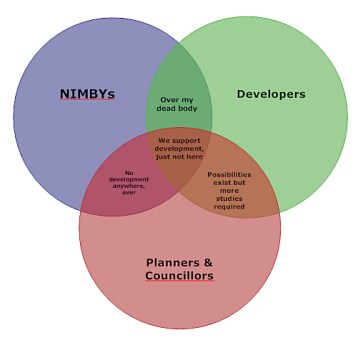 Yes, the Kings Road developers, Peter and Dimitri Damos, have pledged to give $1 million to the city's housing trust fund in lieu of adding the affordable housing units that would otherwise be required by city law. And the local homeowners said they were thrilled that the developer had done so. Cynthia Blatt, who led the opposition to the 826 N. Kings Rd. project, said such in lieu contributions will help the city build housing needed for the elderly, the disabled and young people who can't afford WeHo's market rate rents and housing prices. (That is a marked and politically smart shift from her position in April when, in a memo opposing the project, Blatt said, "The City of West Hollywood has built so many affordable housing units that it has completely satisfied and massively exceeded all requirements and all reasonable expectations for the creation of affordable housing.")
Cathy Blaivas also praised the revised plan and objected to opponents of the original plan being characterized as "NIMBY's." Blaivas assured the Planning Commission that she and others aren't opposed to more development. They just want carefully managed development. And they want developers to be able to pay fees to the city to build affordable housing elsewhere rather than require them to include such housing in expensive condo and apartment buildings.
So where is "elsewhere" in this densely populated and completely built-out city of 1.89 square miles? If Blatt and those like her have their way, it won't be in their backyards. For example, while Blaivas told the Planning Commission last night that developers should be allowed to pay fees to fund affordable housing, she also stood before the city's Disabilities Advisory Board on Wednesday night to object to the West Hollywood Community Housing Corporation's plans to build such housing on Detroit Street on her side of town.
So while the Planning Commission and homeowners who don't want more development in their neighborhoods celebrate together, who will speak for the nearly 80 percent of West Hollywood's residents who are renters and are subject, even with rent stabilization laws, to real estate market forces? Who will speak for those creative people who want to move to West Hollywood but can't afford to? Who will acknowledge that this is a city where two-story buildings will inevitably become three-story buildings and three-story buildings will become four-story buildings unless we want to price all newcomers out of our housing market?
We'd like to see West Hollywood renters band together and organize their own local version of Coalition for Economic Survival (CES), the tenants' rights group that campaigned in 1984 to have West Hollywood incorporated as an independent city dedicated to keeping housing affordable. Someone has to show up at Planning Commission and City Council meetings to remind appointed and elected officials that the NIMBY's who regularly address them don't represent the vast majority of  West Hollywood residents, and that West Hollywood is everyone's back yard.