First of all, I make no apologies. The history of the harassment of the gay bars in California is long and well documented. The ABC department and local police departments worked in tandem from Prohibition to current times to systematically harass, intimidate and threaten both gay bar bar owners and their patrons. Sometimes the police raids were instigated by the ABC and sometimes local police departments.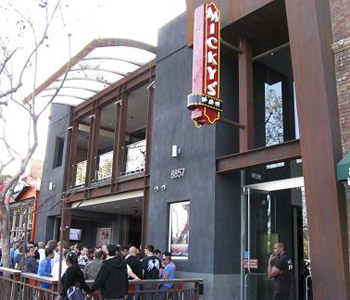 Prior to the 1960s openly LGBT people were forbidden to hold liquor licenses as they were considered of "poor moral character." Prior to the 1970s, cross dressing was forbidden, dancing by same-sex couples was out, lesbians were asked to show their underwear to police and ABC agents to prove they weren't cross dressing. Photos were taken of patrons and, if possible, their employers were notified if they could be found. Teachers were especially vulnerable as it was perfectly legal to fire them for "moral compromise."
Halloween, with all its costumes, was one of the only days when cross dressing was allowed. Our upcoming Halloween celebration didn't begin as a result of city planning and corporate sponsorships. It began as an act of defiance to state and local officials who otherwise banned cross dressing.
I started in the gay bar business in the 1970s. ABC agents and the LAPD routinely raided my bar in the San Fernando Valley. They would conduct these raids on a Saturday night at midnight checking IDs, looking for fruit flies in liquor bottles, and checking for signs of operating a "disorderly house." In my case I would get shoved up against the bar, flashlights in my face while they looked at my liquor license. I have previously called and continue to call on our legislature to conduct state hearings on the misdeeds of the ABC , apologize to the LGBT community and pay reparations to those whose lives were ruined.
Micky's current license suspension is based on lewd conduct laws that haven't changed since the 1970s, although certainly cultural norms have. Nude entertainment including photos and other depiction of nudity is forbidden. The statute of David could get one's license suspension, as could the images on the screens of some customers' cell phones. Would the state have bar owners stand over every customer's cell phone to look for and prohibit penis pics? These standards should be determined on a local basis. If San Francisco and West Hollywood want different standards than West Covina and Santa Clarita, those communities should have that choice. Sexual freedom is still important to the LGBT community. It, along with many other things, defines who we are.
The ABC department in our case  had the leeway to levy a fine instead of suspending our license and forcing us to close . As our case went up though the courts (by the way, the judges for the appeals board are "recommended by the department " to the Governor, a recommendation that he rubber stamps) several of the counts were dropped, and the department was severely criticized for "authorized criminality" in the use of an agent in entrapment.
Still the dept held to its 30-day suspension . The result is nearly 50 people are out of work, suppliers are losing business , our surrounding businesses are suffering and thousands of dollars in sales tax is lost.
We tried to mitigate the impact on our employees by seeking a delay of 60 days to set up employment funding but could not get help from people with the power to intervene in state matters. I appealed to Assemblymember Richard Bloom. His deputy went over the case with him and said he felt the situation was handled appropriately by the ABC. When asked about a delay of 60 days for the help with employee matters, that too was refused. Elected state officials intercede every day in matters that affect their districts. I wonder, if it had been a builder's issue or a celebrity requesting a rush of a state license, if the Assembly member would have responded in the same matter. The fact is they could have acted and refused to do so. I hope that our LGBT community starts asking questions the next time we are asked to rubber stamp a candidate for state office.
The City Council in West Hollywood has little jurisdiction in matters such as these, but Council members have tremendous influence when it comes to intervening with elected state officials. City Councilmember John Duran immediately notified City Manager Paul Arevalo and Assemblymember Richard Bloom of the situation. Newly elected Councilmember Lauren Meister had letters prepared for Bloom, State Senator Ben Allen, and the chairman of the California Assembly. The other three council members were aware of the situation but remained, and still remain, silent.
What's ahead for Mickys? We may now be the longest running LGBT bar in the Los Angeles metro region. We've weathered harassment , earthquakes and yes a devastating fire, and we are still here. All of our staff continues to thank everyone for their tremendous support. Please wear a little extra sparkle this Halloween. We will see you there.
Michael Niemeyer is the owner of Micky's, the popular gay bar on Santa Monica Boulevard that was closed for 30 days by the state Alcoholic Beverage Control department for lewd behavior.