The two West Hollywood City Council members who opposed eliminating the controversial Council deputy system failed last night in an effort to create another system that Councilmember John Heilman said would interfere with the role of the city manager.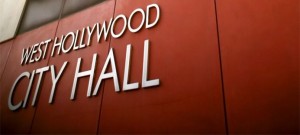 Council members John D'Amico and Lauren Meister proposed a system to track and report "adverse impacts" and feedback from residents who attend city board and commission meetings. Under their proposal, a city staff member attending a board or commission meeting would have to prepare a detailed report on the meeting, including any complaints or issues raised by those attending, within 24 hours of the meeting. Each city department also would have to designate a staff member to act as liaison to the Council. The city also would have to create a system that tracked complaints or issues raised by residents and the city's response to them. Typically in a city organized like West Hollywood, the city council directly oversees the appointed city manager. All other city officials report to him and his subordinates. Generally city councils set policy while city managers execute that policy and oversee the day-to-day activities of city staffers who address residents' concerns.
"I think it's trying to tell Paul exactly how to do his job," said Heilman, referring to City Manager Paul Arevalo. Heilman said he backed the idea of telling Council members more about what happens at board and commission meetings but did not think such as detailed reporting system was necessary. The Council passed his substitute motion to ask  Arevalo to develop a system for tracking responses to residents' complaints.
D'Amico used the discussion of his proposal to lament the end of the deputy system and the removal of Michelle Rex, his deputy and former campaign manager.
"Since we got rid of the deputies my interface with the city has diminished to absolutely zero," he said. "In the past I had one person who I could count on to provide fairly coherent readings of what happened at board and commission meetings."
The Council voted in June to eliminate the deputy system, which was controversial because of the high salaries paid to Council deputies, their frequent disputes with one another and interference with the work of other city employees and their position as largely political appointees.
While he had opposed eliminating the deputy system, D'Amico supported the majorities decision to do so at the last minute. Meister was the only "no" vote.