Authorities today released the name of a young man fatally shot outside the Comedy Store yesterday in West Hollywood.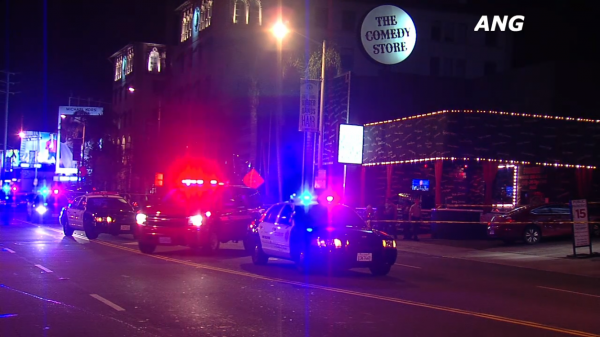 The attack, reported at 12:49 a.m. Wednesday, occurred outside the club, which is at 8433 Sunset Blvd. near Olive Drive. No arrests have been reported.
Richard James, 23, died at a hospital, said coroner's Assistant Chief Ed Winter. His home town was not known.
Sheriff's Lt. Steve Jauch told reporters on Wednesday that the victim was shot in front of the club by someone who wore a dark-hooded sweatshirt and ran from the scene.
"I was on the balcony smoking a cigarette and I heard like several gunshots," a witness told Fox11. "We got out to the front just as cops were showing up and there was a person laying down, and that's all I saw."
Sunset Boulevard was closed between La Cienega Boulevard and Sweetzer Avenue for about nine hours while an investigation was conducted, snarling traffic in the area throughout the morning rush hour.
Anyone with information on the crime was urged to call the Sheriff's Homicide Bureau at (323) 890-5500.