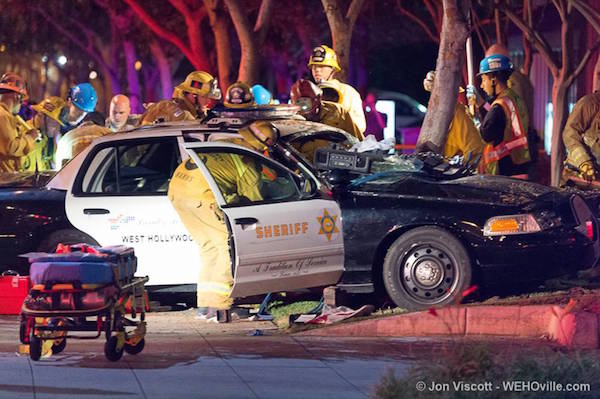 Two Los Angeles County sheriff's deputies and a pedestrian were injured and one pedestrian was killed after a patrol car crashed last night on Santa Monica Boulevard in West Hollywood, authorities said.
The accident was reported at 11:08 p.m. Thursday near the intersection of Santa Monica and San Vicente boulevards, said Los Angeles County Fire Department Dispatch Supervisor Kyle Sandford. The wrecked vehicle landed in front of the MTA bus depot on the south side of Santa Monica Boulevard. One of the deputies was trapped in the patrol car, said sheriff's Deputy Trina Schrader.
One of the pedestrians, whose identity has not been released died at a hospital. The two deputies were hospitalized in serious condition, and the second pedestrian's condition was reported to be critical.
Cmdr. Keith Swensson said the deputies were responding to a report of a spousal assault. As their patrol car headed east on Santa Monica, it hit the rear of another car, ran over the curb and struck the male pedestrians, Swensson said. The patrol car was operating its lights and sirens at the time, and it was not known if the vehicle it struck had yielded, as required by law, Swensson said.
Santa Monica Boulevard from San Vicente to La Cienega was closed to traffic while the accident is being investigated.
"The city is deeply shaken and saddened by this tragic accident and death," the City of West Hollywood said in a statement issued today. "Public safety is the City of West Hollywood's number-one concern. The Los Angeles County Sheriff's Department has requested assistance from the California Highway Patrol to conduct an independent investigation.
"The city is urging people who need counseling as a result of this incident to seek support through The Maple Counseling Center (TMCC). The City of West Hollywood has a long-standing relationship with The Maple Counseling Center and clinical staff is available to provide counseling sessions to West Hollywood community members. For additional information, please contact The Maple Counseling Center at (310) 271-9999."
The accident occurred a day after a 31-year-old L.A. County sheriff's deputy was killed and a 20-year-old woman was seriously injured in a head-on collision near Santa Clarita.
The collision occurred around 9:40 p.m. Wednesday near San Francisquito Canyon Road and Stator Lane and claimed the life of Deputy Brandon Arce, who worked at the North County Correctional Facility in Castaic. Arce joined the sheriff's department in fall 2007 and after graduating from the academy was sworn in as a deputy in 2008. He was the son of retired sheriff's lieutenant Gilbert Arce and was engaged to be married.