It's a grey, overcast day on Dorrington Avenue at six o'clock. My hope is that there will be either some welcome rain or a more open sky with interesting clouds and just enough sun for a reasonable, seasonable temperature.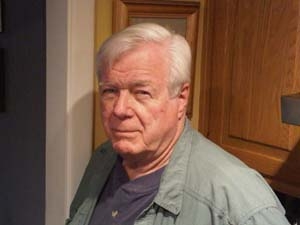 The newspaper used to arrive around six-thirty but now appears about an hour later. Thus I spend a little time staring out the kitchen window watching a group of house finches scrapping at the feeder. A disturbance, a movement across the street at David Jones' former home, catches my attention. A large, white hydraulic boom crane is attempting to move unto the small space, once a patio, at the side of the building on the corner of Dorrington and Robertson. As my eyes are drawn to that scene, I failed to notice three other pickup trucks and a couple of cars take up positions on the north side of the street. Down the street, toward San Vicente, is another truck hauling a trailer. It looks like there will be no street sweeping there today.
Patience. Around seven o'clock I see that the crane has been positioned, and the truck down the street is moving up to join it. A trailer full of I-beams is its cargo. Then I spot a couple of ironworkers, with spud wrenches dangling at their sides, waiting to take up positions. A question is answered for we nearby residents, as we had wondered what was happening to the building, the site of almost constant demolition for the past five months. I see the two men who have lived beside the activity all that time out on the street, speaking with the construction people, probably telling them that such work should not begin prior to eight o'clock. To no avail, of course.
I made a call to the sheriff as an advisory, since the usual weekday traffic, a few hundred cars, would soon be jamming up the street. I'm not sure the city knew of the activity but guessed not since the entrance to the street on San Vicente was wide open. My good deed for the day amounts to just another squeak from a resident and probably my intentions were misunderstood anyhow. Then I remembered that everybody goes to work on Monday and goes home on Friday, so this morning's flow of cars will be not much concern.
This is just one incident in the nearly constant construction activity on the 8700 block of Dorrrington Avenue. There have been many days when there were more pickup trucks parked than commuter cars. Residents were often put at odds to find a spot to park. Saturdays and Sundays were not inviolate as interior work was carried on then. The workers often showed up before seven since it was their fashion to start work early and finish early. A close neighbor has finally finished a large interior renovation after almost six months – should have taken no more than three. The David Jones building has been the scene of gawdawful noise and dust for at least that long as the entire interior, including his lovely top floor apartment, was demolished to make room for – we still don't know what, but some commercial enterprise for certain.
We had a solar system installed, but that took only two and a half days. Still, we added to the confusion as well. Across the street a house will soon be on the market and it is a tear-down, I believe. And, another house near Robertson will soon be demolished to make way for a new structure. So, on it goes: Constructionville.
We notice how often regulations are removed or set aside for certain projects, trucks with loads far surpassing the 6,000 pound load limit for our little street. Major encroachment permits given without notice to residents who scramble to make allowances for them. Our fuzzy noise ordinance, quite unenforceable, usually ignored. And so on, which causes we simple peasants to believe that any commercial activity is allowed and residents – well, you know that we are referred to by a long time council member as "oh, you people!" My eldest boy remarked the other day that he recalls that we were able to toss a football to each in the streets, moving aside occasionally as a car came by – not now. I know Dorothy, this ain't Kansas, but still….
Carleton Cronin and his wife, Toby Ann, have lived in West Hollywood since 1974. They have raised four sons here, and Cronin has long been an astute observer of civic life.