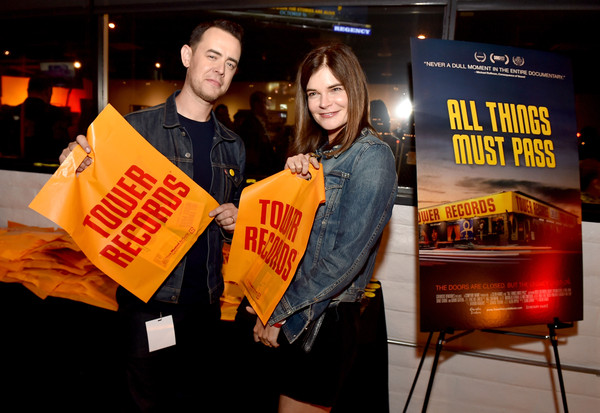 "Is this the real life…or is it fantasy?"
Freddie Mercury's cooing inquiry was no doubt behind the starry eyes — some filled with joyful tears — that flooded the former home of the Sunset Strip's iconic Tower Records store, which shuttered in 2006 to the tune of thousands of breaking hearts. The beloved site of 35 years of musical zeitgeist was revived for one night on Thursday as filmmaker Colin Hanks hosted an after party for the history books following the premiere of his new documentary about Tower, "All Things Must Pass," at the Harmony Gold theater ahead of its Friday release in New York and L.A. The documentary's director said that the recreation of what he considers arguably "the most iconic of all the stores" on Thursday was "beyond" his dreams and expectations.
"I always wanted to be able to do something cool, but it seemed like a crazy hair-brained idea. The fact that we've been able to pull it off… all of our sponsors have been so beneficial because everyone just goes, 'Tower? Yes! Absolutely!' That's one of the reasons I knew there is an audience for this, because everyone has such an affinity for Tower. Not because it was a big company, but because it was a personal company," Hanks said.
Vintage Los Angeles founder and Los Angeles Magazine writer Alison Martino, who lives four blocks from the former record haven she frequented with her actor/musician father, was among the first to notice the changes that made hearts race: the empty building was being painted that particular golden shade of yellow that just makes you want to rock, red block letters began lacing the wall above its entrance one by one, a T…and O…and W…
"It's the closest thing to a time capsule I've ever seen on the Sunset Strip, and I think it set a new bar for film promotion," Martino said of the event, adding that anything she shares through the Vintage Los Angeles Facebook community she created always garners strong and emotional responses from her nearly 200,000 followers.
Actor/director/producer Hanks, who showcased his guitar skills during his Season 2 stint on "Mad Men" and was an avid bass player in his youth, is the ideal person to have created a love note to Tower Records on the scale of "All Things Must Pass." The film's title is a nod to both a classic George Harrison song and the poetic closing sign that hung on the folding flagship store in Sacramento, hometown to both Tower Records and Hanks. The film dives deep into the history of what began as a young Russ Solomon selling records in his dad's drug store in the 1960s and became a cultural phenomenon. Everyone wanted to work there — as Dave Grohl says in the film, "It was the only place I could get a job with my f*cking haircut" — and everyone had "their" Tower Records as the company spread across the globe. For most Angelenos and for renowned musicians like Elton John, it was right there at 8801 Sunset Boulevard, a stone's throw from the Roxy and Whiskey-A-Go-Go rock venues.
"It was all the kids and the customers that really made the company what it was," said partygoer Stan Goman, who served as COO of Tower for 37 years and who built the Sunset Strip store from the ground up in 1970 for just $75,000, making it the first location Tower ever built for itself.
Goman said it was strange to not see all the usual suspects he was used to seeing at the Sunset store, but he did have a few old friends there, including Billboard writer Geoff Mayfield and entertainment manager Fred Croshal, who calls Russ Solomon, Stan Goman, and everyone connected to Tower Records "my brothers."
"The people who did not get to experience [Tower Records] and come in and be a part of it, they missed out on a major cultural experience," Croshal said of younger generations who will learn about the iconic record giant from Hanks' film. "People would literally come in to Tower and spend four or five hours and read and listen to music and get turned on to new things they didn't ever know. It was a more fun, on-steroids library of music."
This plot of primo land at the northwest corner of the intersection has been yo-yoing between FOR LEASE and LEASED in recent years, even oddly serving as headquarters for photo app Flipagram for a few months in 2014. The singe-story building with an expansive parking lot faced a proposed demolition and rebuild into an office complex and gym in 2010, an idea that was decried by neighbors. Nothing seemed to stick — the only thing anyone who knows West Hollywood seems willing to accept at that site is music.
Gibson Guitars came to the rescue last November when the company signed a 15-year lease of the building in the hopes of making it an homage to the Strip's rock 'n roll history in a space large enough to showcase their entire array of instruments and equipment. Gibson, Tesla, Gravitas Ventures and Pabst were some of the sponsors that made Thursday night's time capsule a reality.
Long-haired rockers and leather-clad girls in crop tops and platform heels were once again toting yellow Tower Records bags with records in them — each invitee to the closely guarded event was allowed to choose one vinyl souvenir from bins dutifully labeled by genre, a microscopic version of the aisles upon aisles where music lovers mined for audio gold. Cheers reverberated off the concrete walls surrounding the parking lot for the first time in years as the Eagles of Death Metal performed the kind of rollicking live show Tower Records always hosted there, with fans pressed up against the fence scaling the Horn Avenue hill screaming even louder than those actually permitted into the lot.
Gibson set up stations throughout the store where guests could don headphones and test guitars, and a silent auction featuring music history items like paintings of icons, including Jimmy Hendrix benefitted the Sweet Stuff Foundation, a nonprofit that supports recording artists dealing with illnesses and disability that was co-founded by Josh Homme of Queens of the Stone Age and Eagles of Death Metal.
"There was a spirit of what was happening here and what people were doing and why they did it that created a culture that defined a place, and in this case it was Sunset Boulevard," said Darrin Roberts, film editor of "All Things Must Pass," who was one of many brought to the verge of tears at the resurrection of this particular Tower Records. "I can't believe there are people standing in the parking lot listening to a rock and roll band with bags … I'm getting really emotional right now because it's amazing. We're standing where there used to be aisles and aisles of music. It was a place for everybody — it didn't matter what you looked like, how you dressed or what you cared about. There was always a place you could come to, and there was always an aisle for you."