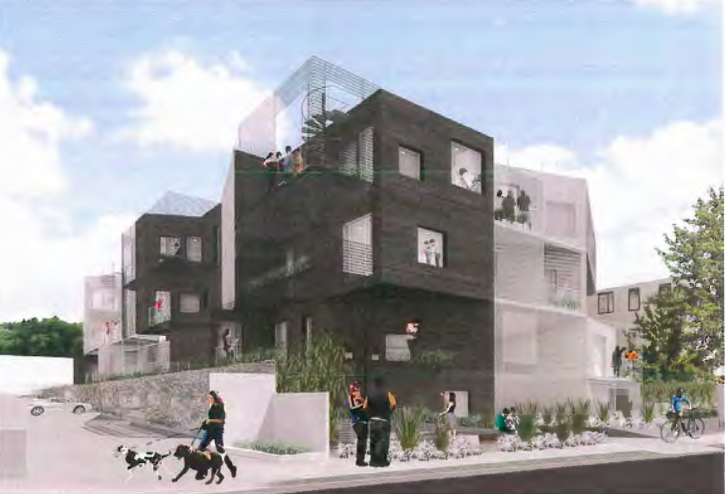 The West Hollywood City Council last night rejected an appeal of the Planning Commission's approval of a condominium project on North Kings Road but asked for several modifications before the project moves forward.
The Council's decision was a defeat for a group of anti-development activists that organized earlier this year to oppose another project at 826 N. Kings Rd.  Members of a group recently formed to support more affordable housing, Residents for Affordable Integrated Development (R.A.I.D.), celebrated what they see as a victory by their group.  Many R.A.I.D. supporters such as Larry Block, Manny Rodriguez and Sam Borellis spoke in favor of the 1028-1030 N. Kings Rd. project at last night's Council meeting.
Opponents of the project at 1028-1030 N. Kings Rd. cited everything from concerns about parking and traffic, the project's impact on the drought and the cumulative impact of it and three other developments on Kings Road.
But the core issue on which they and the project's supporters differed was whether housing for low- and moderate-income people should be integrated into projects for the more affluent, or whether such affordable housing should be built separately.
United Neighbors for Responsible Development (UNReD), the group formed to oppose the project at 826 N. Kings Rd., has argued that developers should be encouraged to make payments into a trust fund that can be used to develop affordable housing rather than pushed to add affordable units that would increase the size of a project. That argument led several speakers at last night's meeting to accuse the project's opponents to trying to segregate the poor and middle-class from the affluent.
UNReD and other project opponents stressed that they support the development of more affordable housing in West Hollywood, a major issue in a city that has seen rents and housing costs climb rapidly in recent years and where 80 percent of the residents are renters.
However, a petition signed by 272 people opposing the project that was presented to the City Council also made the argument that West Hollywood already has met state and city requirements for affordable housing.
"The State and the City's own numbers will show that there is no longer a 'great unmet need' to build affordable housing in West Hollywood," the petition said. "We are proud that our progressive City has met and massively exceeded its allocated need. The City of West Hollywood has built so many affordable housing units that it has completely satisfied and massively exceeded all requirements and all reasonable expectations for the creation of new affordable housing. Such an accomplishment now allows the City to amend its zoning requirements to allow developers to pay an impact fee in lieu of putting the affordable units on site."
One argument made by some project opponents is that the city should require the developer to reduce the project to 22 units, all of which would be sold at below market prices to low- and moderate-income people. That approach would not be financially feasible for the developer.
The project, which is being developed by a company headed by Victor Hadad, is located right behind the Gelson's grocery store on Santa Monica Boulevard. The four-story condominium building would have 30 units, including two for low-income people and three for moderate-income people, and 58 parking spaces in an underground garage. It would replace two single-family homes on adjacent lots.
Councilmember John D'Amico noted that the project met city zoning requirements. However he asked that the city study the capacity of sewer lines in the area, which several residents said had broken and might not be able to handle additional housing. D'Amico also asked city staffers to work with the developer to make the building more environmentally sensitive.
Councilmember Lauren Meister said she believed the project, on its own, was something she could support. However Meister said she agreed with area residents that the cumulative impact of it and three other projects on Kings Road needed to be studied. "I feel that we need to mitigate the issues that are going to be caused cumulatively but not necessarily those that are going to be caused by this particular project," Meister said, citing parking, traffic and possible sewer issues.
Councilmembers John Duran and John Heilman disagreed with those who argued that the four-story building is out of character with the neighborhood. It is a corridor of condominium owners, and one of the places where condominiums are highly congregated," Duran said. "At the end of the day it's a four-story building with 30 units. It's not any thing larger than we see now."
"If this development is oversized and too
large and a big box, then a lot of the existing buildings on Kings Road need to be torn down," Heilman said, noting that the street is full of such buildings.
The 1028-1030 N. Kings Rd. project was the first defeat for UNReD, whose campaign against the 826 N. Kings Rd. project led the developer to remove proposed apartment units for low- and moderate-income people and reduce the height of the building from five to four stories. With those changes the project was approved by the Planning Commission.