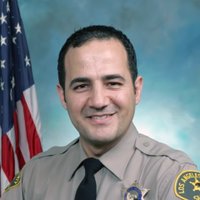 The West Hollywood Sheriff's Station today released the names of the two deputies involved in a fatal patrol car crash on Santa Monica Boulevard on Oct. 15. The deputy who was driving the patrol car was Matt Ahrari, a 10-year veteran with the L.A. County Sheriff's Department who has spent four years working at the department's West Hollywood Station. Riding with him was Robert Sandoval, a nine-year Sheriff's department veteran who is assigned to the Los Angeles County Medical Center at the University of Southern California.
Lt. David Smith of the West Hollywood station said both deputies have been released from the hospital and currently are at home recovering.
The deputies were injured when they were responding to a complaint of an attack by one spouse on another. A patrol car driven by Ahrari went out of control and crossed the sidewalk on the south side of Santa Monica Boulevard near the entrance to the MTA bus depot. The car hit two pedestrians, Jonathan Peña, 27, and Michael Fong, 39. Peña died as a result of the crash and Fong remains hospitalized. The crash was so severe that emergency rescue workers were called to extract the deputies from their car. They were taken to the hospital where they were listed as being in critical condition.
Meanwhile, friends and family members of Peña have announced that a memorial service will be held for him at Rose Hills Mortuary, 3888 Workman Mill Rd., in Whittier from 5 to 8 p.m. on Saturday.