• West Hollywood Halloween Carnaval is the "go-to" event for Halloween in Southern California (sort of like Times Square in New York City on New Year's Eve!) It's the region's second-largest annual event — the only thing that's bigger is the Tournament of Roses New Year's Day Parade.
• In 2015, the West Hollywood Halloween Carnaval celebrates its 27th anniversary. It began in 1987, just three years after the City of West Hollywood was officially incorporated in 1984.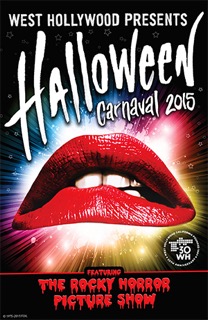 • West Hollywood Halloween Carnaval takes place on the roadway that is also known as California State Route 2 and, even more memorably, it is part of the western stretch of historic Route 66 made famous by the song "(Get Your Kicks on) Route 66" first composed in 1946.
• Last year, approximately 200 cardboard "event box" waste receptacles were placed along the festival area for Halloween Carnaval and 15.85 tons of waste were collected. Of this tonnage, 4.36 tons were recovered recyclables diverted from landfill disposal.
• Approximately 1,000 "No Parking" signs will be installed this year around the event zone to help control access and ensure safety. Snow fencing will be installed at all landscaped medians to protect landscaping.
• West Hollywood Halloween Carnaval has always been a free event open to everyone. Perhaps that's why it always attracts record crowds. It is estimated that as many as 500,000 people attend the Halloween Carnaval each year.
• The Halloween Carnaval wasn't always this big. The event grew slowly in the late 1980s and throughout the 1990s, but the event experienced extreme growth in 2001, reaching an estimated attendance of 350,000 people.
• Despite enormous crowds, clean-up crews begin work immediately after the event. Typically, the entire street is reopened by 5 a.m. on Sunday. In addition, clean-up crews pressure-wash and steam-clean sidewalks along Santa Monica Boulevard between Palm and Robertson — this is usually completed by 8 a.m. Clean-up involves up to 10 city staff members, 30 workers through a local recovery program and seven street-sweep vehicles.
• The City of West Hollywood has 34,399 residents. When you add an extra 500,000 people to the mix, that adds up to what would be 5th largest city in California for one night each year!